FATE - Fantastic Adventures in Tabletop Entertainment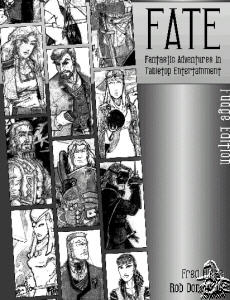 Bei Fate stehen die Charaktere im Mittelpunkt

Eine Hohepriesterin der barbarischen Horden¸ ein untoter Revolverheld aus dem Wilden Westen und ein Oberleutnant der intergalaktischen Sicherheitskräfte sind denkbar verschieden¸ aber sie haben eines gemeinsam: Ihre Geschichten brauchen eine treibende Kraft¸ die ihnen Dynamik und Stabilität verleiht. Fate Core ist diese treibende Kraft. Fate Core ist die neueste Edition des preisgekrÖnten Fate-Rollenspielsystems von Evil Hat Productions. Die Regeln wurden bereinigt und fokussiert¸ ohne dabei die Flexibilität von Fate aufzugeben. Egal¸ was du spielen willst: Mit Fate geht es.

Inhalt:Leicht verständliche Regeln zur Charaktererschaffung und Spielweltgestaltung
Praktische Tipps¸ wie Spieler und Spielleiter die bestmÖgliche Geschichte erzählen kÖnnen
Klare und verständliche Regeln für alte und neue Spieler
Neue und verbesserte Methoden¸ um mit Aktionen¸ Aspekten¸ Fate-Punkten und mehr umzugehen
Erzählt aufregende¸ dramatische¸ spannende Geschichten. Dafür ist Fate Core da.
A High Priestess of the barbarian hordes¸ an undead Wild West gunslinger¸ and a Second Lieutenant of the Intergalactic Security Forces are about as different as they come¸ but they've got one thing in common: they need a strong engine to drive their stories. Fate Core is that engine. Fate Core is the latest evolution of the award-winning Fate roleplaying game system from Evil Hat Productions. We've streamlined and clarified the rules while maintaining the system's trademark flexibility. Name your game; Fate Core can make it happen.