Game Over - A Breakfast Cult Expansion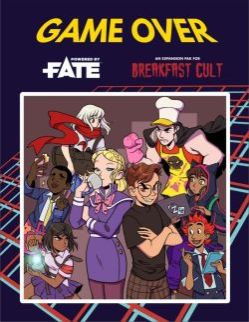 Game Over is the first major expansion pack for Breakfast Cult ¸ the Fate Accelerated game of cosmic horror and high school drama. It expands on the main setting with over fifty pages of DLC content¸ including:
• A closer look at Weird Age tech¸ like cybermancy and artificial intelligence
• A guide to running games set in virtual reality worlds¸ like that isekai anime you like
• Seven Factions competing for influence in Occultar-join the Student Council¸ help their rivals in the Computer Appreciation Society¸ or embrace capitalism with Arc Zaibatsu
• Seven fresh sample characters with all-new Agendas¸ from wannabe ninja Athena Darkroad to ki-throwing martial artist Konami Kouda
• New encounters that should fit right into your normal school life-a sukeban chef¸ an AI counselor¸ Tony Bagels¸ and more
• Three new Ancient Ones with a digital theme-a rogue superintelligence¸ a virus from outer space¸ and a new Cold One hiding inside a virtual reality world
• More pointless references than you can shake a weeb at
• No microtransactions
Whether you're looking to enhance an existing game of Breakfast Cult or start a new adventure¸ your school life is about to get weirder. Game Over was created as a stretch goal for the Breakfast Cult Kickstarter. Thanks to the backers for making this possible!