Ice (Fate)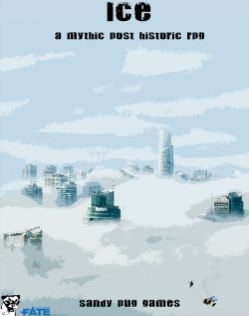 The world is cold. It has been for as long as anyone can remember. In the darkness¸ megafauna roam¸ hunting and killing at a whim. Settlements of strange beings make plans to destroy every vestige of you and your kind from this dark earth¸ the waters are harsh or frozen solid and inhabited by unspeakable monsters. Even the Gods are dead. Mankind still lives¸ eeking out the barest of existance in the ruins of the old world¸ weak¸ scared¸ on the brink of extinction...
But you are not. You have power. The beasts bend to your will¸ the rituals you weave change the very world and you can force the power of the world into your own soul. You are Human¸ and you can survive this dark night. You have The Spark.
Ice takes place in a dark fantasy Ice Age millenia after the collapse of civilisation where Neanderthals are preparing to wipe out Homo-Sapiens forever¸ giant sabretoothed tigers and mammoths roam the frozen wastelands and the weather ranges from cold and unforgiving to uninhabitable frozen wastes in the blink of an eye. A Game of tribal politics¸ dark rituals and slaying giant beasts to take their power. Only you stand between what remains of humanity and complete extinction.
Ice is a Fate game¸ and requires Fate Core to run.