World of Darkness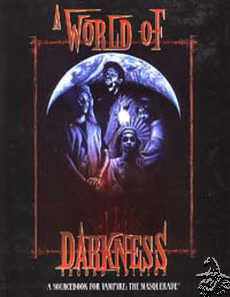 Wir befinden uns hierbei in der sogenannten Welt der Finsternis (engl. World of Darkness¸ kurz WoD). Im Prinzip ähnelt diese Welt der unseren¸ betont aber mehr die dunklen Seiten. Die Schatten sind länger¸ alle sind ein wenig korrupter¸ die Musik variiert zwischen grausig und barock und irgendwie liegt in allem ein wenig Endzeitstimmung. Das interessante Leben findet eher abseits eines geregelten Tagesablaufes statt - die Nacht wird zum Treffpunkt der verschiedensten Geschöpfe. Sehr viele der historisch wichtigen Ereignisse lassen sich - inoffiziell - durch das Einwirken höherer Mächte erklären¸ bei denen die Menschen eigentlich nur wie Spielfiguren auf einem Spielbrett gezogen wurden.
A modern horror RPG¸ the successor to a number of previous games including Vampire: The Masquerade ¸ Werewolf: The Apocalypse ¸ Mage: The Ascension ¸ and other games. This is something of a revised edition¸ with the specific games appearing as world modules for this core rulebook. It uses a dice pool system¸ revised to roll a number of d10s based on attribute + skill + modifiers. Each result of 8-10 is a success¸ with a 10 giving an additional roll. Character creation is limited point-based¸ with a changed set of attributes and skills. It has a number of supplements that form semi-independent game lines within the same setting - Vampire: The Requiem (2004)¸ Werewolf: The Forsaken (2005)¸ Mage: The Awakening (2005)¸ Promethean: The Created (2006)¸ Changeling: The Lost (2007)¸ Hunter: The Vigil (2008)¸ and Geist: The Sin-Eaters (2009). - A description from https://darkshire.net/jhkim/rpg/encyclopedia/ with kind permission of John H. Kim
---
The creatures of legend hold themselves above the petty powers of mere mortals. Yet by birthright¸ heritage or arcane training¸ some mortals inherit powers beyond the scope of the mundane. Sorcerers and gifted psychics - the key to puissance is dedication. For the master of the craft¸ there can be no mere dabbling¸ only the road to true power. More Than a Match for the Denizens of the Night The The Hunter's Tools is the complete guide to the furthest reaches of mortal power for Mind's Eye Theatre. Including the heritage of travelers¸ the rare powers of dedicated psychics¸ and new sorcerous paths¸ this book has everything for the experienced hunter. Master-level sorcery¸ national influence and organizations that blur the boundaries between mortals and supernaturals raise the stakes of the game.