Chronicles of Darkness / New World of Darkness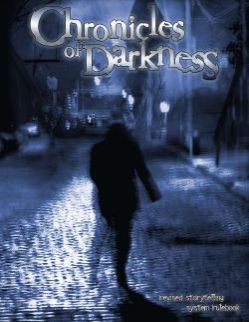 Keep walking.

Eyes straight ahead.

Don't look back.

In the shadows and between the cracks of our everyday lives hide theChronicles of Darkness. Here lurk creatures of ancient myth and urban legend. Here lie the graves of angels and the bunkers of secret government programs. Here every malformed horror you've ever seen out of the corner of your eye has a home. And they've seen you.

Don't look back!Chronicles of DarknessRPG rulebook contains:A guide to creating characters to explore a world of modern horror¸ from hopes and fears to psychic powers.

Dramatic rules for investigation¸ social manipulation¸ and bone-crunching violence.
Over a dozen monsters straight out of weird fiction and urban legend... plus complete rules for creating your own.
The God-Machine Chronicle¸ a massive collection of sample characters and techgnostic adventures.
Formerly titlednWoD Core Rulebook 2nd Edition.
---
We live our days completely ignorant of the true terrors lurking around us. Only rarely do our experiences draw back the veil of shadows and reveal the horror in our midst. These glimpses into the supernatural can cause us to retreat into comforting lies - 'There are no such things as monsters' - or stir our morbid curiosity. Only a few¸ however¸ can overcome their fear and dare to look deeper. The World of Darkness Rulebook introduces a version of our contemporary world where the supernatural is real. Players join to tell tales of mystery and horror¸ where theme¸ mood and plot are more important to a character's experiences than his weapons or equipment. Inside are rules for character creation¸ task resolution¸ combat and any activity your character attempts as he delves into the shadows.