Street Fighter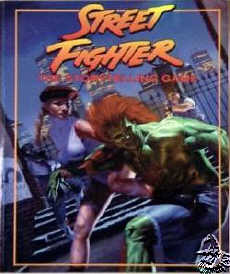 Action/Superhelden-Setting. Dem bekannten Computerspiel nachempfunden. Man spielt in diesem nicht ganz ernstzunehmenden System Charaktere¸ die versuchen¸ in den Turnierringen dieser Welt ihre Gegner mit Karate¸ Kung Fu oder auch Sumo oder Native American Wrestling zu Boden zu ringen. Aber was macht man als Turnierkämpfer in seiner Freizeit?!? Hier kann man es herausfinden!
Das Streetfighter-Rollenspiel basiert auf den Stroyteller-Regeln¸ die z.B. auch für die World of Darkness-Systeme (Vampire) verwendet werden. Allerdings wurde dem Kampfsystem natürlich besondere Aufmerksamkeit gewidmet¸ um dem kampflastigen Computerspiele-Vorbild gerecht zu werden. Es gab für die World of Darkness mal einen "Combat"-Quellenband¸ in dem eben diese Sonderregeln auch für Systeme wie Vampire oder Werwolf übernommen werden konnten. Diese Kampfregeln haben sich aber kaum durchgesetzt - kein Wunder¸ sehen die meisten WoD-Spieler doch eher den Geschichtenerzählerischen Aspekt bei diesen Systemen. Dank an www.ass.augsburg.net
A martial-arts RPG based on the video game¸ using a variant of the Storyteller system. - A description from https://darkshire.net/jhkim/rpg/encyclopedia/ with kind permission of John H. Kim
---
Now there's a new way to play Street Fighter!
Join the action as the World Warriors pit their mystic martial arts abilities against the evil crime empire of Shadoloo. Take on the role of Ryu¸ Guile¸ Blanka¸ Cammy or one of the other World Warriors as you battle the legions of Shadoloo and the supreme crime boss himself¸ M. Bison. Or create your own Street Fighter¸ choose your own special powers¸ and carve your own legend among the ranks of the Street Fighters.
This book details the world of Street Fighter as you've never before seen it. Explore a high-action world adventure and danger in and out of the martial arts arenas. Visit exotic locations around the world and fight each country's champion¸ as your own Street Fighter strives to attain the rank of World Warrior.