Vampire: The Masquerade / Vampire-Die Maskerade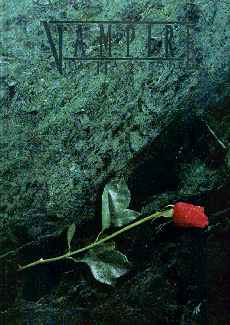 Mit Vampire taucht man in eine Welt der Finsternis und des Blutes ein. Als Charakter personifiziert man eines dieser untoten Wesen¸ das sich auf der ewigen Suche nach Blut und Macht befindet. Nach Sonnenuntergang bewegen sie sich frei umher - unbemerkt unter den Menschen¸ die ihnen als Nahrung dienen und arbeiten an ihren Intrigen und Machtgerangeln.
Vampire: Die Maskerade hat Anfang der 1990er Jahre die Rollenspiel-Welt verändert. Der Spielleiter wurde zum Erzähler und gemeinsam gestaltete die Gruppe Geschichten des persönlichen Horrors. Das narrative Element wurde wichtiger als der einfache Würfelwurf. Und jetzt ist Vampire: Die Maskerade mit dieser Ausgabe zum zwanzigjährigen Bestehen in einer modernisierten¸ umfassenden Ausgabe zurückgekehrt. Erneut können die Spieler in die Welt der Dunkelheit eintauchen¸ einer finsteren Spiegelung unserer Welt¸ in der mächtige Vampirahnen ihre Intrigen spinnen¸ unbezähmbare Wildnis am Rand der Städte lauert und Dekadenz in jeder Faser der Existenz spürbar ist. Diese Welt atmet Gothik-Punk. Die Spieler übernehmen die Rolle von neugeborenen Vampiren¸ die in den Strudel des Dschihad gezogen werden¸ jenem jahrhundertealten¸ geheimen Krieg der mächtigsten Vampire. Die Charaktere streben nach Macht¸ Ansehen und kämpfen darum¸ nicht gänzlich zum Monster zu werden.

Neben Cthulhu¸ das erfolgreichste Horror-Rollenspiel. Vampire begründete einst den Erfolg der World of Darkness und liegt heute in der Dritten überarbeiteten Version vor. Kritikern kommt das Spiel inzwischen jedoch mehr wie eine Seifenoper vor¸ weil die Kultur der Vampire wirklich sehr viel mit einem Schachspiel gemein hat. Es gibt verschiedene Arten Vampire¸ die sich untereinander selten freunlich gesinnt sind.

Einst wird kommen die Zeit¸ da der Fluch des Höchsten nicht mehr länger geduldet wird da die Blutlinie Kains enden wird da das Blut Kains schwach sein wird und es wird keinen Kuss für diese Kinder geben Denn ihr Blut wird fliessen wie Wasser und seine Kraft wird dahinwelken dann wisst Ihr¸ dass in dieser Zeit Gehenna nahe herbeigekommen sein wird - Das Buch Nod Ein Spiel um persönlichen Horror

Niemand hat Gewalt über mich. Kein Mensch. Kein Gott. Kein Prinz. Was bedeutet der Anspruch des Alters für diejenigen¸ die unsterblich sind? Was bedeutet der Anspruch auf Macht für diejenigen¸ die dem Tod trotzen? Ruf doch deine verdammte Jagd aus. Wir werden sehen¸ wen ich schreiend mit mir hinab in die Hölle ziehen werde.
A popular horror RPG¸ set in a Gothic-Punk World of Darkness inspired by Anne Rice's novels where clans of vampires vie for supremacy. It uses a dice-pool system (the Storyteller system)¸ rolling a set of d10's equal to (attribute + skill) where each roll over target number is 1 success. Character creation is limited point-based. - A description fromdarkshire.netwith kind permission of John H. Kim
This new edition of Vampire: The Masquerade is an updated¸ revised version of the popular classic. In this mammoth volume can be found all 13 Clans¸ all major Disciplines¸ and a host of brand-new infomation on both the Kindred and the...things...that hunt them. This book compiles everything that a Vampire player or Storyteller needs to know about the Kindred and the World of Darkness for the new millenium. Plus¸ the new edition provides all-new information on the changes that affect the Clans¸ and on the beginning of the end of the Camarilla.