Orpheus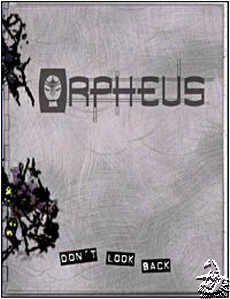 A modern horror game¸ where the PCs are ghosts (or Laments) who are working for a company called the Orpheus Group. The company has ghost employees who do various jobs ranging from occult investigations¸ to spying¸ to assassination. It uses a variant of the Storyteller system. - A description from https://darkshire.net/jhkim/rpg/encyclopedia/ with kind permission of John H. Kim
---
This is Radio Free Death...
... the Voice of the Afterlife. Science thinks it's shattered the barrier between life and death¸ but it's only opened the floodgates. Stop meddling with the affairs of ghosts and close the doors before something follows you back through. You should have left some secrets buried¸ because now they won't go back to sleep without a fight."
I See Dead People
It's called projecting¸ the ability to separate the soul from the body and interact with ghosts. It's a multi-billion dollar enterprise for companies like Orpheus Group¸ which offers its services to public and private interests. It's also a portent of dark things to come. Orpheus is a new type of game¸ a ghost story for ghosts told in a six-book limited series.