Changeling: The Dreaming / Wechselbalg-der Traum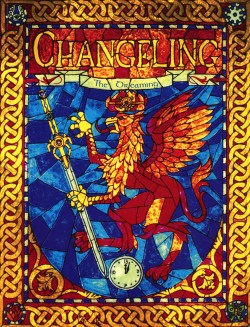 Mit Wechselbalg taucht man in eine Welt der Finsternis und der schwindenden Freude am Leben ein. Als Charakter personifiziert man eines der märchenhaften Sagenwesen (Trolle¸ Satyre¸ Sidhe¸ Pooka¸ ...)¸ die sich aufgemacht haben die letzten Funken menschlicher Phantasie und Freude vor der Eintönigkeit zu retten.
Wechselbalg: der Traum (so der deutsche Titel) kommt in einem farbenprächtigen Hardcover daher. Dies verdeutlich auch schon gut¸ daß es in diesem Rollenspiel um die kindliche Seite in uns allen geht. Die Welchselbälger (engl. Changeling) sind eigentlich Feenwesen vom nun fernen traumhaften Reich Arkadien¸ die jedoch in unserer Welt gefangen sind oder vielleicht auch gar nicht mehr zurück wollen. Bei diesen Feenwesen handelt es sich um Elfen¸ Trolle oder Schrate¸ aber auch Heizelmännchen¸ Klopfer und Rotkappen (brutale Schläger !) gehören zu diesem Volk. Wie man schon an den Rotkappen bemerkt¸ ist nicht alles so fröhlich im Feenalltag - und doch lebt eine Fee vom Spaß und der Phantasie der Menschen. Eine trostlose¸ dem Alltag verfallene Welt¸ bedeutet für einen Wechselbalg den langsamen Tod - oder zumindest den Verlust all seiner wunderbaren Kräfte. Und darum versucht ein Wechselbalg auch möglichst vielen Leuten wieder das Träumen beizubringen. denn wo soll die Welt denn hinkommen wenn die Freude und Phantasie nur noch Grenzen kennt ?
A modern fantasy game about faeries struggling in the modern world. Banality of current existance threatens them. It uses a variant of the Storyteller system. - A description fromdarkshire.netwith kind permission of John H. Kim
Changeling: The Dreaming is a role-playing game where players take the part of half-human/half-fae exiles from the Faerie realm of Arcadia. They must walk a fine line between ignoring their Fae heritage and surrendering to Banality¸ and ignoring their human heritage and becoming lost in the insanity of Bedlam. They face dangers of the Dreaming in the shape of dragons and other monsters¸ and dangers of the ordinary world¸ in the shape of overprotective parents and psychologists.