Trinity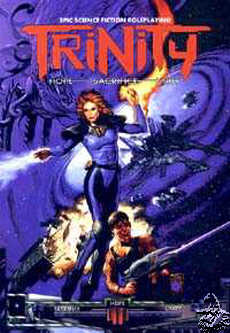 Ein poppiges SciFi-Spektakel¸ das so gar nichts mit der World of Darkness zu tun hat. Ein SciFi-Universum mit einem facettenreichen Spektrum zwischen fantastischen Superhelden und miesen Oberschurken. Andere Planeten wurden kolonisiert¸ neue Planeten entdeckt und schließlich sogar bislang unbekannte intelligente Lebensformen entdeckt.
Der neueste Streich der Storyteller-Reihe flüchtet ganz bewußt vom World of Darkness-Image. Die Gegenwart wird mit der Zukunft ausgewechselt: Magi¸ Werwölfe und Vampire weichen Psionikern¸ kurz Psionen. Die Psionen haben übernatürliche Kräfte entwickelt¸ indem ihnen die kanalisierung von psionischer Kraft gelang. Egal¸ ob man damit Fliegen will¸ die Luft entflammt oder auch die Gedanken eines Anderen ließt - Psionen sind die Magier der Neuzeit. Vor dem großen Krieg einiger amoklaufender Psionen gegen die restliche Bevölkerung¸ waren die Psionen Menschen wie Du und ich - vielleicht sogar Deine Mutter. Erst im Jahre 2061 konnten die marodierenden Abtrünnigen aufgehalten werden¸ dabei waren die Verluste auf der Seiten der "Normalen" unglaublich hoch¸ sogar vor dem Einsatz von Atomwaffen wurde schließlich nicht mehr zurückgeschreckt um die Abtrünnigen aufzuhalten. Die Missetäter flohen ins All¸ um dem Untergang zu entkommen. Der Wiederaufbau konnte beginnen. Anfängliches Mißtrauen gegenüber allen Psionen wich der Erkenntnis des großen Nutzen für die Allgemeinheit und natürlich einzelne Fraktionen. Nur langsam konnte die zerstörte Welt wieder aufgebaut werden und auch die Psionen entwickelten sich in dieser neuen Ordnung. Jetzt¸ sechzig Jahre nach Kriegsende¸ kehren jedoch die Abtrünnigen wieder heim - und treffen auf die überraschende Gegenwehr der Psionen. Bereits seit zehn Jahren halten die Wälle. Endlose Abenteuer und Gefahren warten. Neue Helden in einer neuen Weite¸ denn die Grenze ist nun nicht mehr das Firnament. Inzwischen sind die Tore zu neuen Welten und fremden Rassen aufgestoßen worden. Raumschiffe tragen die Abenteurer fort und damit auch zu neuen Konflikten - sowohl mit den Abtrünnigen¸ als auch mit dem noch unbekannten Fremden. Anders als die restlichen Storyteller-Bände kommt Aeon / Trinity als labberiges Softpapier mit Spiralbindung daher und macht nur aufgrund der tollen farbigen Illustrationen und Layout einen guten Eindruck. Der Doppelname Aeon / Trinity ist eigentlich gar keiner. Der ursprüngliche Name war Aeon¸ den jedoch der Musiksender MTV für sich beanspruchte (Serie¸ oder so). Um Streitigkeiten zu vermeiden¸ wich White Wolf gezwungenermaßen auf den Titel Trinity aus. Lustig aber wahr: Die Händler bekamen kurzerhand Aufkleber zugeschickt¸ um die Schriftzüge der Regelwerke zu überkleben - was jedoch sicherlich viele nicht gemacht haben¸ so findet man heute noch in vielen Läden den Schriftzug Aeon¸ neben passenden Erweiterungen mit dem Titel Trinity. Andrea Willes Meinung: Trinity ist sicherlich Geschmackssache¸ aber ich persönlich finde es sehr gut. Der Hintergrund ist - obwohl kurz gehalten - sehr komplex und bietet Platz für alle möglichen verschiedenen Arten von Science Fiction scenarios: Von Cyberpunkähnlichem Lowlife bis zu high Science Fiction¸ erkundung neuer Planeten oder First Contact scenarios und so ziemlich alles dazwischendrin. Und Ich persönlich finde¸ man kann vor dem Hintergrund auch Sehr gut mit nicht- Psionikern spielen¸ dann findet halt dieser ganze Psi- Aberrant Konflikt irgendwo im Hintergrund statt¸ betrifft die Charaktere aber nie direkt. Und bezüglich des Good-PSI - Bad-Aberrant (oder Bad-Alien) Konfliktes¸ ganz so simpel schwarzweiß ist das nicht ! Wenn man sich mal ein wenig intensiver mit der Materie (und den bisher erschienenen Hintergrundbänden) befaßt¸ dann merkt man sehr schnell¸ daß die Psioniker gar keine so reine Weste haben und daß die Aberrants durchaus eine Existenzberechtigung haben und nicht einfach nur Kill-on-sight Monster sind. Selbst diese Tue-Gutes-Trinity-wir-helfen-der-Menschheit Organis
A sci-fi superhero game¸ set in the 22nd century where powerful ""Psions"" defend the Earth from twisted ""Aberrants"" (who wield ""quanta"" rather than ""psi""). The Aberrants were expelled from Earth after a massive war¸ but having made interstellar colonies some are now returning to reclaim it. It uses a variant of the ""Storyteller"" system. It was formerly called Æon¸ but the name was changed for legal reasons. - A description from https://darkshire.net/jhkim/rpg/encyclopedia/ with kind permission of John H. Kim
---
In the 22nd century¸ humanity has ventured to the stars. Yet alien races¸ fractious colonies¸ contending governments and aberrant mutations all vie for supremacy amid the wonders of this new age. At the center of the conflict stands a new breed of humans - men and women with psychic powers - whose actions will determine humanity's ultimate fate. Trinity is a game of epic science fiction.
---
A Battle Rages Across the Stars The psions of the Legions are pitched in a heated battle with the Aberrants of the beleaguered Khantze Lu Ge colony. As territory is claimed and squads fall¸ it's easy to forget that they're not alone in the cosmos. Other psi orders bring the fight to their enemies all across settled space. The future will be written by the victors. Who will you be? Take the Fight to Them!