Hunter: The Vigil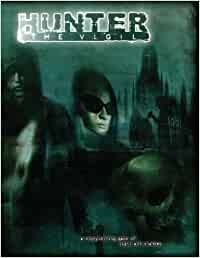 In dem Spiel spielt man Menschen¸ welche den übernatürlichen Kreaturen der Chronicles of Darkness begegnet sind¸ und sich entschieden haben gegen diese als Jäger in einer Wacht (engl. Vigil) vorzugehen. Es gibt mehr Monstren als je zuvor¸ und neue Methoden gegen sie vorzugehen¸ sie gefangen zu nehmen¸ alles während versucht über Ankerpunkte (Touchstones) seine Menschlichkeit nicht zu verlieren und mit dem Streß umzugehen.

Worum geht es bei Hunter?

Wie gesagt¸ spielt man Menschen¸ die sich gegen das übernatürliche Gezücht der Chronicles of Darkness stellen. Vampire¸ Geister¸ Werwölfe¸ Bestien¸ Wechselbälger¸ Prometheaner¸ Deviants und mehr.

Hierbei kann man die Gruppe von idealerweise drei bis fünf Jäger unter drei verschiedenen Ansätze wählen:Tier 1: Zelle (Cell) Hierbei spielt man eine Jägertruppe¸ die auf eigene Faust gegen Monstren vorgeht. Im Grunde wie bei Supernatural¸ in den ersten Staffeln¸ nur mit etwas mehr Beteiligten als den beiden Brüdern.
Tier 2: Kompakt (Compact) Hierbei spielt man eine Jägertruppe¸ die einem von mehreren Kompakten angehört¸ welche das ganze koordinieren. Im Grunde wie bei Supernatural¸ in den späteren Staffeln¸ wo man ein Netzwerk von mehreren Jäger-Zellen organisierte.
Tier 3: Verschwörungen (Conspiracies) Hierbei spielt man eine Jägergruppe die zu einer großen Organisation gehört. Im Grunde wie bei Supernatural¸ nur das man die Mitglieder der Men of Letter spielt.Alle Spielweisen werden mit einem Setting und passenden Regeln unterstützt und das Buch bietet darüber hinaus eine Chronik zum loslegen.
A Candle in the Darkness
The scales have fallen from your eyes.
A fire is lit: is it a lamp perched over the inscription upon an ancient blade? Or a roaring conflagration consuming the house in which the howling fiends wait?
Things will never be the same after this. You've set forth on a damning path.
Carry the Vigil.
Fight back the shadows.
Hunter: The Vigil includes:A rulebook for playing hunters¸ those humans who have seen the truth of the World of Darkness and are spurred to action.
A many-faced Vigil for many types of hunter: characters might choose a path of violence¸ of investigation¸ or even of rehabilitation. Decipher mysteries and confront the horrors.
Provides new player types and antagonists for crossover- intensive chronicles as well as those chronicles focused only on hunters.For use with the World of Darkness Rulebook.