Mummy: The Resurrection / Mumien-Die Wiedergeburt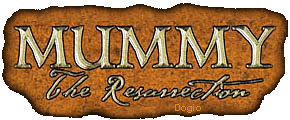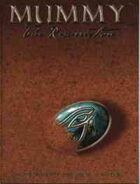 In der ägyptischen Vorzeit gab es einen Krieg zwischen zwei Vampiren¸ Osiris und Set. Set gewann diesen Krieg¸ tötete Osiris und Osiris" Frau Isis und sein Sohn Horas mußten fliehen. Isis machte ihren Sohn durch ein mächtiges Ritual unsterblich¸ um es ihm zu ermöglichen den Krieg gegen Set weiter zu führen. Mit Hilfe dieses Rituals schaffte Horas eine kleine Armee Unsterblicher (43 glaube ich; aber nicht so unsterblich wie in Highlander)¸ die seit Jahrtausenden einen Krieg gegen die Setiten führen. Diese Mumien verhalten sich zunächst so wie ganz normale Menschen¸ jedoch wenn sie sterben¸ verbringen sie einige Zeit in den Shadowlands (s. Wraith) und "laden sich wieder auf". Sie kehren zu ihrm Körper zurück und leben wieder ein paar Jahrzehnte. Die meisten Mumien können etwas ägyptische Magie anwenden¸ z.B. um ihren Körper zu konservieren (Aber nachdem sie ins Leben zurückkehren sind sie doch noch schlau genug die Binden wieder abzunehmen) oder das Wetter zu beeinflussen. Sie haben durch ihre unvergleich lange Lebensspanne zu Beginn des Spiels sehr viel mehr Fähigkeiten als andere WoD Charaktere. Die Stimmung von Mummy wird vor allen Dingen davon bestimmt¸ daß Mumien darum kämpfen müssen ihre Erinnerungen an vorherige Leben zu behalten¸ genauso wie die Lebensfreude ... Es gibt auch sieben Mumien¸ die der Vorstellung von angewestem Fleich entspechen¸ sogenannte Bane Mummies. Set gelang es an eine Version des Rituals von Isis zu gelangen¸ machte allerdings eine Kleinigkeit falsch und die "freiwilligen" Testpersonen wurde verrückt und böse (und morden als seelenlose Horror-Film-Mumien ahnungslose Ägyptologen). Für die meisten trifft aber eher die Beschreibung "Altägyptischer Magier mit umfangreichen Wissen über Thanatologie und Geisterwelt" zu. Aber auch da gibt es natürlich Unterschiede¸ auch Krieger wurden mumifiziert und haben in den Jahrtausenden nicht immer viel Magie dazugelernt. Manche Mumien sind nicht mal Ägypter ...
Alles in allem ist Mummy gar nicht mal so schlecht. Der historische Hintergrund ist ausnahmsweise einmal ausreichend recherchiert und die Stimmung kommt auch gut "rüber. Außerdem gelang es hier einmal eine Vernünftige Verbindung von andren WoD Charakteren zu Wraith herzustellen. Dank an Clemens & Martin
Amenti Is Destroyed¸ Osiris Awakes The Spell of Life has failed. In its place¸ Osiris has handed down a new ritual to his priests and thus created a whole new breed of mummy. More alive than even those who still breathe¸ the Undying revel in existence and strive to deliver the principles of Ma'at in the Year of the Scarab . The Undying Are Reborn Mummy: The Resurrection brushes aside the veil of mystery and delves into the Middle Eastern World of Darkness to bring you completely revised and updated rules for playing a new kind of mummy character. Contained within are new spells¸ new horrors and new insights into the mysteries of Arabia¸ Egypt and the lands of the dead.