Spycraft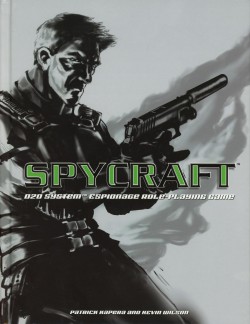 Mit 'Spycraft RPG' kommt ein echtes Spion-Rollenspiel im klassischen Stil. Später wird es weitere Quellen- und Weltbücher geben¸ die dieses System ergänzen.
"A modern-day superspy game in the genre of James Bond and Mission: Impossible. The rules are a variant of the D20 System from 3rd editionD&D. The core book include complete¸ self-contained skill and feat listings as well as combat rules¸ but rely on core rules from standalone D20 System games for a few essentials of character creation and advancement. - A description from https://darkshire.net/jhkim/rpg/encyclopedia/ with kind permission of John H. Kim"
---
License to Improvise. Beyond espionage¸ beyond military mayhem¸ Spycraft 2.0 is your gateway to an unlimited world of modern action-adventure! It takes the wildly popular Spycraft RPG d20 system to a whole new level: expanding and updating character options¸ condensing and refining the rules set¸ and providing the platform for any scenario you can envision! Whether your play style is intimate or epic¸ freeform or stat-driven¸ this landmark release contains everything you need to launch into the adventure today! NOTE: The second printing of this release contains all errata to date as well as a retooled Gear chapter for easier use. * Updated skill system! The newly organized skill set and modified skill rules empower the players to become anything they want to be¸ and back it up at Level 1. * Streamlined gear system! Be ready to play every session in 10 minutes or less! Rules for Agency and freelance play! Quick and easy gear options for any modern genre! * Dueling System! Simplified¸ multi-utility head-to-head mechanics for any contested action¸ from chases to hacker duels to brainwashing. * The only d20 product you need for any modern genre. Espionage¸ military¸ near-future¸ horror¸ and more - all in one book. * Unlimited world and NPC options! Want a gritty world populated with unique villains¸ quirky henchmen¸ and minions with character? Look no further! * Easy-to-use customization rules allow you to build virtually any template and lay it over the standard Spycraft system¸ creating an all-new gaming experience.