Call of Cthulhu d20 Roleplaying Game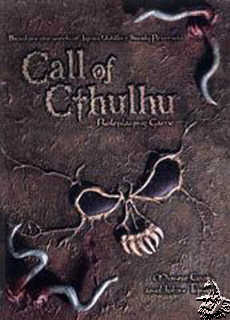 Bereits im März ist die D20-Version von Call of Cthulhu versendet worden und dürfte sich mittlerweile in RPG-Shops überall auf der Welt eingefunden haben. Mit ca. 50 Euro ist der Schinken nicht gerade billig¸ aber wer weiß welcher Dämon dort auch reingepackt werden mußte...
A horror game based on the works of H.P. Lovecraft¸ where PC's are investigators into the unknown who deal with horrors beyond comprehension. The rules are a standalone system based on the D20 System used by 3rd editionD&D. It adds rules for insanity¸ but is still more combat oriented than the original game from Chaosium. - A description from https://darkshire.net/jhkim/rpg/encyclopedia/ with kind permission of John H. Kim
---
The long-awaited d20 adaptation of Call of Cthulhu in one all inclusive rulebook.
Since the early 1900s¸ H.P. Lovecraft has been considered one of the top writers in the entire horror genre. Elements of his work have appeared over the years in numerous horror arenas¸ but now roleplayers can delve into a campaign centered around the authors popular Cthulhu Mythos. The Call of Cthulhu Roleplaying Game contains everything needed to play or narrate a roleplaying campaign¸ including all core-game rules for the d20 game system.