Star Wars d20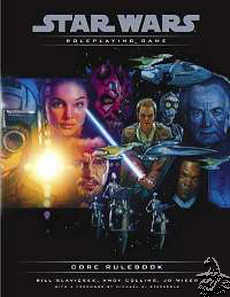 Für viele von uns war Star Wars ein Teil der Jugend. Man schaute sich die Filme zig mal im Kino oder auf dem heimischen TV an¸ sammelte und spielte mit den Figuren und Plastikraumschiffen - und auch heute noch (oder wieder) erzielen die einstmals heißgeliebten Spielzeuge und Filme dank THX wieder Höchstpreise. Was liegt da näher als ein zünftiges Rollenspielsystem¸ das in den von Lucasfilm geschaffenen Weiten spielt ?
Every generation has a legend... Every journey has a first step... Every saga has a beginning... Slice and dice battle droids with glowing lightsabers! Blast alien pirates and destroyer droids to save Naboo! Battle forces of darkness with courage¸ diplomacy¸ and a team of brave companions at your side. You control the action. Your create the story. You use your imagination to explore a galaxy far¸ far away. You take on the role of a powerful Jedi Knight¸ brave soldier¸ sly scoundrel¸ or daring scout. You become the Gamemaster¸ making the adventures come alive! Now you can create your own adventures in the Star Wars universe with this complete adventure game. Inside this box you"ll find everything you need to start playing now¸ including a rule book¸ an adventure book¸ a giant map¸ game tokens¸ eight hero folders and dice¸ plus an exclusive Hasbro action figure. Powered by imagination¸ and more interactive than any computer or video game¸ the Star Wars: Invasion of Theed Adventure Game is for two or more players.
The world's most popular film series combines forces with the makers of the world's most popular roleplaying game to bring the Star Wars universe to life. The Star Wars adventure game gives everyone a chance to play a part in the most popular movie adventures of all time. Star Wars fans can actually create new adventures set in the mysterious city of Theed from Episode I The Phantom Menace. Players can take part in the momentous events that led up to the liberation of Naboo and the death of the evil Darth Maul. This is epic gaming!