James Bond 007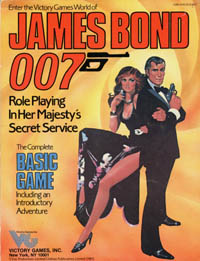 James Bond 007 RPG. Regelwerk von 1983 Leider schon lange OOP und durch reguläre Kanäle nicht mehr zu bekommen.

Eines der schönsten Systeme mit echt geilen Supplements - zumindest für James Bond-Fans.
James Bond ist ein recht altes Regelwerk ("83) und seit Ewigkeiten OOP/OOS. Das JB-Rollenspiel ist ein Vorreiter¸ weil es seinen Plotaufbau und Spannungsbogen insgesamt an der (relativ einfachen) Formel der James Bond-Filme orientiert hat. Das geht so weit¸ daß in den Abenteuern in einzelne Szenen geschnitten wird (so wie es später z.B. bei TORG wieder aufkam). Das mag heute ein alter Hut sein¸ aber damals war es eine neuartige Idee. In diesem Rollenspiel wurden auch Begegnungen (erst während des Spielabends!) ausgewürfelt¸ die (im Gegensatz zu den von vielen anderen Systemen bekannten Zufallsbegegnungen) für die Handlung entscheidend waren. Das Abenteuer ergab sich als Folge zufällig bestimmter Szenen¸ die der Spielleiter einbauen sollte. Ein Beispiel: Die SC sollen in einer Stadt Nachforschungen über den mutmaßlichen Schurken anstellen und quartieren sich im Hotel ein. Erst jetzt würfelt der SL¸ sieht auf der Liste mit möglichen Ereignissen im Abenteuer nach und baut eine Szene ein¸ in der die SC zufällig auf die Geliebte des Schurken aufmerksam werden und so eine erste Spur finden. Nichts ist fest¸ der Weg zum Erreichen des Ziels nicht vorgegeben¸ ja mehr noch¸ es ist so durchaus möglich¸ daß die SC das Ziel gar nicht erreichen können¸ wenn der SL nicht eingreift. Der Verlauf ist völlig offen¸ und das erfordert schon ein gewisses Improvisationstalent und war... nun ja¸ eben ungewöhnlich. Dank an Clemens Schmitz & Ronald Boehm
An espionage-adventure RPG¸ based on the film series (which were based on the books by Ian Flemng). It uses a percentile skill-based system¸ with a universal chart that gives four Quality Ratings of results. Quality Ratings are emphasized over success/failure in the system. It also includes a Hero point system where points can be spent to modify the outcome of rolls. Character creation is open point-based¸ allowing characters at ""Rookie""¸ ""Agent""¸ and ""00"" levels. - A description from https://darkshire.net/jhkim/rpg/encyclopedia/ with kind permission of John H. Kim
Experience the life of a secret agent... work for M.I.6¸ the British Secret Service¸ or assume the role of the most famous agent of all... prepare yourself for endless thrills¸ high-living and danger. Reach out for excitement in...
The World of James Bond 007
* Careen through high-speed chases...
as you track down villains or escape their evil henchmen!
* Pit yourself against ODD JOB and JAWS...
and thwart the plans of Dr. No and Goldfinger!
* Choose your special skills as an agent...
weapon and vehicle handling¸ hand-to-hand combat¸ gambling¸ mountaineering¸ demolitions.
* Select your equipment from Q Branch...
have your weapons and vehicles modified to suit each of your missions!
Obtain the Coveted 00 Rank:
Your Licence to Kill!
The Fully Illustrated Basic Game
All the information necessary to play the game is provided to the Gamesmaster and players¸ plus an introductory adventure - The Island of Dr. No!