Octopussy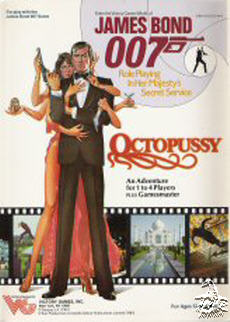 Udaipur¸ India. The City of Dreams.
BRIEFING: Somewhere in this opulent city¸ the mysterious tradesman known as Kamal Khan is bringing to fruition a plot that will throw the world into chaos. Elsewhere¸ in her island palace on Lake Pichola¸ the beautiful Octopussy is scheming to multiply herenormous store of priceless jewels. Meanwhile¸ on another continent¸ one of the great treasures of Tsarist Russia - the Faberge Egg - is being slowly transported by a deadly circus to wards an unknown destination. MISSION: As an agent of M.1.6¸ the British Secret Service¸ you must attempt to find the link between Kamal Khan¸ Octopussy¸ and the Faberge Egg. But your task is far from easy¸ and it could be lethal. Armed with a few pieces of special equipment from Q Branch - and your own natural resourcefulness - you must uncover and defeat an underworld plan of international import. For if you fail¸ the world itself could face destruction.
The Octopussy Adventure package contains:
* An illustrated 48-page Gamesmasters Guide with complete instructions on running an adventure.
* An Agents Briefing Dossier from M.1.6 with 8 Mission Information Sheets.
* A full color wrap-around folder complete with a portfolio of the major non-player characters.