On Her Majesty's Secret Service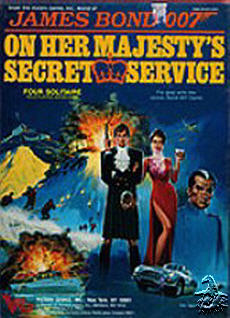 Now all the excitement and challenge of the James Bond movies and role-playing game are yours¸ without the need for a GM.
The game system for On Her Majestys Secret Service goes beyond the traditional solitaire mechanic of just reading paragraphs and thrusts you into the middle of breakneck chases and deadly combats. Through the use of Action Cards and random NPC cards¸ the danger levels can change from moment to moment matching your characters growth from Rookie to 00. As you progress¸ you gain Action Codes that can change the course of the adventure¸ bringing surprises and thrills you never thought possible with a solitaire game.
On Her Majestys Secret Service contains FOUR complete adventures that can be played individually or linked together¸ using James Bond or a character of your own creation.
As you defeat impossible odds while uncovering the Major Villains master plan you will encounter deadly traps¸ fiendish mind control devices¸ the mysterious and troubled Tracy di Vicenzo¸ and a few surprise allies and enemies along the way. Can you prevail and save the world¸ proving that you are one of the best On Her Majestys Secret Service?