Shadowrun Duels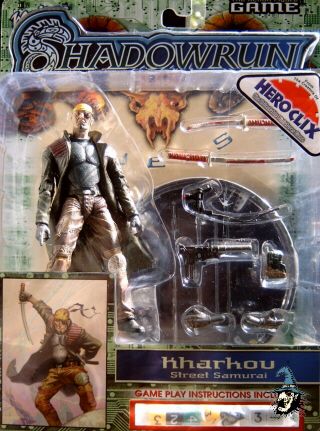 Die Shadowrun Duels Blister sind verdammt groß: 32 x 22 x 8 cm. Darin steckt die Figur (ca. 14 cm hoch)¸ zwei Ersatzhände(!)¸ diverse Waffen und Ausrüstungsgegenstände. Wie es aussieht kommen spieltechnisch 8 Würfel und eine große Spielplatte (Base¸ ca. 12 cm Durchmesser und 2.5 cm hoch) dazu¸ wie man sie von MageKnight¸ HeroClix & Co kennt - allerdings mit drei Sichtfenstern. In der Base ist Aufbewahrungsplatz für die Würfel und gerade nicht getragene Waffen.
Die Figuren sind superb bemalt und verfügen über zahlreiche Gelenke (Action-Figur a la Big Jim oder Barbie halt). Die Figuren können auch ohne die Basis stehen.
Mal was gaaaanz neues von der MageKnight-Front! 'Shadowrun Duels' Sind die 14cm hohen Figuren nun eher etwas für den Schaukasten oder für den Tabletop oder gar für den Sandkasten¸ wenn der Junior damit flitzen geht? Für letzteres sind die Figuren sicherlich zu teuer und auch mit zu vielen kleinen Teilen versehen. Aber den Kultstatus einer Big Jim- Actionfigur könnten die Helden aus dem Shadowrun Grundregelwerk schon erreichen!? Was die Sache für uns mehr oder weniger *erwachsene* Gamer interessant macht ist die fette Scheibe (Basis) auf der man die Figur befestigen kann: das ist MageKnight (bzw. HeroClix) in groß! Und die Figuren sind dazu auch noch exzellent bemalt! Göttlich anzuschauen! Wer sich für Bilder und Infos des im Juni erscheinenden Games interessiert¸ möge dem Link folgen! Auf wizkidsgames.com/shadowrun/ gibt es auch ein paar erste Infos.
It's 2063. The world of Shadowrun Duels is ruled by magical creatures and cybernetic weaponry. To survive¸ you'll need the latest laser-guided machine gun and the most arcane magic spells. Every piece of gear you use to customize your figure directly impacts your chances of survival. Game play is fast and deadly. On the mean streets of Shadowrun Duels¸ life is short - so come armed to the teeth!