MageKnight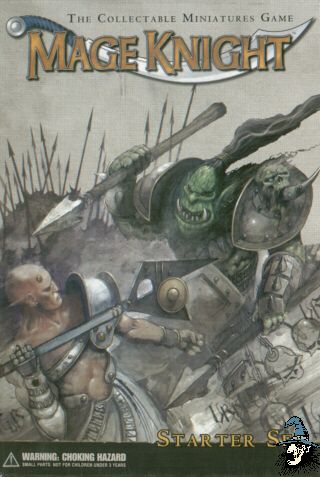 Fantasy / Sammel-Miniaturenspiel. Erfindungen verändern die Welt. Bei Mage Knight haben die Schwarzpulver-Rebellen durch die Erfindung der Höllenmaschinen das delikate Machtgleichgewicht zerstört. Die magischen Avatare der Atlantisgilde¸ der Nekropolissekte und der Elementarliga kämpfen gegen die Rebellen¸ um die Kontrolle über die Mage Knight Königreiche zu erlangen. Es ist ein Zeitalter des Chaos¸ in dem ein Anführer mit strategischem Geschick eine Armee aus Skelettrittern¸ Trollen¸ Orks¸ Zauberern und Golems versammeln und mit ihnen ein neues Reich aus dem Boden stampfen kann. Bist du ein solcher Anführer?
Mage Knight ist ein sammelbares¸ erweiterbares Miniaturenspiel¸ bei dem jede Plastikfigur für dich bereits vollständig bemalt und zusammengebaut ist. In jeder Figurenbasis ist eine Drehscheibe integriert¸ die alle Informationen enthält¸ um die Figur in Aktion treten zu lassen. Mage Knight benötigt daher im Spiel kaum Regelbücher¸ Tabellen¸ Datenblätter¸ etc. Wie bei einem Sammelkartenspiel (TCG) besitzt jeder Mage Knight-Charakter seine eigenen Spielwerte und Fähigkeiten¸ die ihm im Kampf eine besondere Funktion verleihen. Das Sammeln und die Zusammenstellung deiner Armee ist der Deckkonstruktion bei TCGs sehr ähnlich. Was Mage Knight jedoch anders macht ist¸ dass die Spielwerte und Fähigkeiten sich im Laufe einer Schlacht verändern¸ und damit mehr Spieltiefe und taktische Optionen bietet.
Play a game of dungeon adventure using powerful Heroes and monstrous Mage Spawn! Mage Knight Dungeons uses beautiful¸ fully assembled¸ pre-painted miniatures with rules that can be learned quickly¸ but offer limitless strategy. Each figure stands on a unique dial base that has all the game information printed on it. There are no complicated charts¸ tables¸ or record-keeping; all the information is on the dial.