Lankhmar: City of Adventure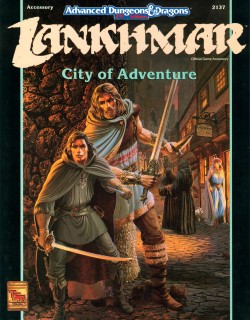 AD&D-Welt nach den Fafhrd/Grey Mouser-Stories. [Oliver Booms]
Update for 2nd edition AD&D.
LANKHMAR... city of thieves¸ city of the night¸ city of adventure. Home of Fritz Leibers famous heroes¸ FAFHRD and the GRAY MOUSER¸ the greatest adventurers in the world of Nehwon. The city of Lankhmar springs to life as an exciting setting for the AD&D 2nd Edition game.
Visit the fabled Rainbow Palace¸ stroll the surly streets of the old town¸ haggle at the marketplace¸ or risk the winding maze of the Tenderloin. From the wharves and shipyards to the dark sewers of this mighty metropolis¸ LANKHMAR: CITY OF ADVENTURE takes you on a full tour.
This sourcebook goes beyond NPCs and locations to include details on the cults and deities of Nehwon¸ its monsters and unusual races¸ even its unique wizards and magic. All are explained in clear¸ AD&D 2nd Edition formats.
Step into a new world of intrigue and adventure. Enter the city of Lankhmar¸ where the lucky and the nimble prosper.