Conan Roleplaying Game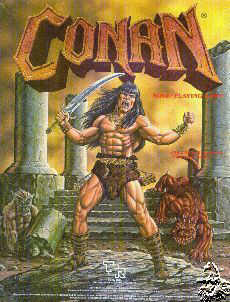 A fantasy RPG based on the novels by Robert E. Howard. It is set in the ""Hyborian Age"" -- a mythic time in what will become modern Europe and Northern Africa. Various precursors to early cultures and races are found. This is a complete game using variant of the D20 System of third editionD&D. It adds rules for fate points¸ reputation¸ and corruption. PCs start with 3 fate points¸ gaining 1 per level¸ which can be used to avert death (""Left for Dead"")¸ added damage (""Mighty Blow"")¸ reduce corruption (""Repentance"")¸ or to impose a plot twist (""Destiny""). Combat is changed by having armor which reduces damage (i.e. DR instead of raise Defense); and special combat maneuvers¸ which are qualified for by prerequisites of attributes¸ skills¸ and/or feats. - A description from https://darkshire.net/jhkim/rpg/encyclopedia/ with kind permission of John H. KimADVENTURES IN AN AGE UNDREAMED OF

WELCOME TO THE HYBORIAN AGE!

KNOW¸ O PRINCE¸ THAT BETWEEN THE YEARS WHEN THE OCEANS DRANK ATLANTIS AND THE GLEAMING CITIES¸ AND THE YEARS OF THE RISE OF THE SONS OF ARYAS¸ THERE WAS AN AGE UNDREAMED OF¸ WHEN SHINING KINGDOMS LAY SPREAD ACROSS THE WORLD LIKE BLUE MANTLES BENEATH THE STARS...

Robert E. Howard's Conan: Adventures in an Age Undreamed Of takes you into the world of Conan the Barbarian¸ where heroes raise blood-spattered swords against dire sorcery¸ exotic lands beckon to the daring¸ danger and treasure lurks in forgotten ruins¸ and where loathsome creatures haunt the spaces beneath the earth... as well as in the throne-rooms of mighty kingdoms!

Seek your fortune in forbidden tombs or upon blood-soaked battlefields. Cast dark and terrible spells of unimaginable power¸ at the price of your soul. Sail upon untamed seas to lands where no human in living memory has walked. Fight for the fate of civilization - or barbarism - on a savage frontier!