TORG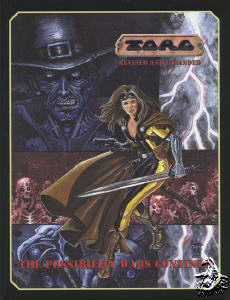 Das Rollenspiel TORG handelt von verschiedenen Realitäten welche die Erde angreifen um sie der kostbaren Möglichkeitsenergie zu berauben. Der Angriff der einzelnen Realitäten wird jeweils von einem bösen "Hochlord" (Highlord) und seiner Dunkelheitsmaschine (Darknessdevice) geführt. Ihnen treten die "Ritter des Sturms" (Stormknights) als Spieler entgegen. Was so abgehoben und Metaphysisch klingt ist eines der genialsten Rollenspielsysteme überhaupt. Bei Torg kann man alles spielen vom Steinzeitmenschen bis zum Raumschiffkapitän¸ vom Superhelden bis zum Zwergenmagier. Einen typische Torggruppe besteht z.B. aus einem cyberverstärktem Priester¸ einem Echsenwesen aus der Steinzeit¸ einem Elfenmagier aus dem Fantasyreich und einem Superhelden ala Batman.
Das Regelsystem ist einfach und komplex zugleich. Man würfelt mit einem W20 (wobei 10en und 20en weiter gewürfelt und aufaddiert werden) und ließt das Ergebnis als Bonus oder Malus für den Fertigkeitswert auf einer Tabelle ab¸ hat man den Mindestwurf erreicht ist die Aktion gelungen. Weiter gibt es Regeln für viele Beteiligte an einem Gefecht und ein einfaches Umrechnungsystem für Spielwerte (z.B. Stärke) in Realewerte (Gewicht). Die Initiative und besondere Situationsmodifikationen werden durch Spielkarten ("Dramadeck") bestimmt. Zusammenfassend eine einfach zu handhabendes System für Spieler und Spielleiter¸ mit Möglichkeiten die wirklich Filmreif sind. Collected by Helge
A multi-genre game set on Earth being invaded by beings from other dimensions (""cosms"")¸ who have transformed swaths of Earth into ""realms"" where different laws apply: simulating a traditional genre with a twist. i.e. Egypt is transformed into a pulp action realm¸ England is transformed into a traditional fantasy realm¸ etc. The system uses a 1d20 roll (open-ended on 10 or 20) which refers to a universal chart that give ""bonus"". Action resolution is by comparing bonus + skill vs difficulty. It has an exponential scale of game ""values"" similar to the MEGS system (from DC Heroes). It also uses a ""Drama Deck"" of special cards. Each round in combat¸ a card is turned up to show initiative and special opportunities. Further¸ each player has a hand of 4 cards which can be played to cause special events. - A description from https://darkshire.net/jhkim/rpg/encyclopedia/ with kind permission of John H. Kim"
---
The long-lost revision of the first edition of the Torg rules by guru Jim Ogle sees publication. This massive tome compiles a decade of print publications and fan comments into one central location. Note that it does not contain setting information or templates; these are available separately.