Tank Girl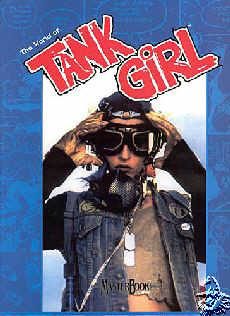 Endzeit Nach dem Action-Comic/Film. Spielt wohl in einer postapokalyptischen Welt.
Insgesamt ein ziemlicher Flop.
A post-apocalyptic RPG based on the comic book (by Jamie Hewlett and Alan Martin) and the 1995 MGM movie of the same name. It is about a near future where a comet strike devastates the Earth. In 2033¸ the only water left is under the control of an evil megacorporation¸ The Department of Water and Power. There are many oddities¸ including mutant kangaroos and gadgets like the Dangerball and the Plasma-powered Flesh-Reversing Rifle. It uses theMasterBooksystem¸ and was packaged with a copy of the core rule book. - A description from https://darkshire.net/jhkim/rpg/encyclopedia/ with kind permission of John H. Kim
---
Tank Girl might not know a roleplaying game from a wanker¸ but you don't have to be that ignorant. Take a trip into the outback with the craziest badhead ever to strap on a super-tank and go in search of beer and bloodshed!
This here game is the ultimate RPG sourcebook for Tank Girl¸ the movie. It includes stats for Tank Girl and all her friends... and enemies. How does a mutant wallaby stand up against a Ripper? How fast can Tank Girl's tank go? What happens when Jet Girl crashes her jet into Sub Girls sub? Who fills out the insurance claim?
Take a trip on the (wild) weird side with The World of Tank Girl!