Tiny Dungeon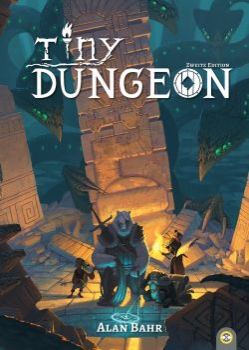 Tiny Dungeon 2Eist die überarbeitete Fassung des beliebten minimalistischen Fantasy-Rollenspiels.
Das zugrundeliegendeTinyD6-System ist so konzipiert¸ dass es für alle Alters- und Erfahrungsstufen zugänglich ist: Sämtliche Aktionen werden mit ein bis drei sechsseitigen Würfeln abgewickelt¸ die Charaktere passen auf Karteikarten und die Regeln sind eingängig und leicht zu vermitteln.
In diesem Buch sind zudem über zwanzig kurz umrissene Kampagnenhintergründe enthalten¸ die von einigen der besten Autoren da draußen verfasst wurden. Diese "Mikroszenarien" sind kurz und flexibel und sollen dir als schnelle Inspiration und einfacher Einstiegspunkt für deine Kampagne dienen.
Also schnapp dir deine Freunde¸ ein paar Bleistifte und Würfel und mach dich bereit für minimalistisches¸ unkompliziertes Fantasy-Rollenspiel!
A player guide for Tiny Dungeon 2e! Containing all the rules you need for Tiny Dungeon¸ whether you are a player or a GM! From character creation¸ through dungeon generation¸ and with an extensive (for a tiny roleplaying game) bestiary¸ you'll have everything you need but a setting! Powered by the minimalist TinyD6 ruleset¸ all you'll need are some six-sided dice¸ this PDF and some 3x5 notecards¸ and you can dig into a stream-lined and stripped down fantasy roleplaying game! This product does not contain the micro-settings that you'll find in the core Tiny Dungeon 2e book.