Hidden Invasion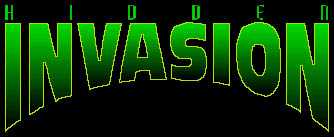 Conspiracy They"re here...and you"ve already lost. Greys have taken control of our government. Reptilians use our population as test subjects. And ancient conspiracies among humanity are helping them. You¸ and a few like you¸ know what is happening. Only you can do anything to stop it... Not just another Conspiracy Theory...
An alien conspiracy RPG¸ with reptilian ""Greys"" having taken over the government with the help of ancient human conspiracies. It uses a minimalist dice pool system¸ the ""Cinematic Adventure System"". There are no attributes¸ just ""talents"". You roll d6's equal to 2 plus your talent vs a difficulty number. Character creation is by allocating 10d of talents. There is a Spanish edition under the title ""Invasores: La conspiración alienígena¸"" which adapted the background information for Spain and added a new introductory adventure (""Convergence"" by John Tynes¸ originally written for Call of Cthulhu). - A description from https://darkshire.net/jhkim/rpg/encyclopedia/ with kind permission of John H. Kim

The first revelation of the conspiracy! Hidden Invasion uses the innovative Cinematic Adventue system to simulate exciting action and suspense without bogging down in useless rules. Includes stats for all major alien races and 2 sample adventures plus more! The most extensively researched alien conspiracy game every published.