Zorro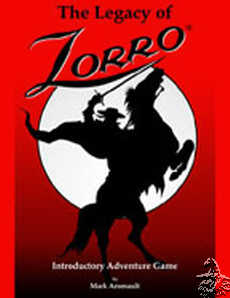 Zorro¸ originally created by pulp author Johnston McCulley¸ first appeared in the novel 'The Curse of Capistrano' in 1919. Since then¸ Zorro has appeared in more than 40 books and dozens of films¸ the most recent and best-known being 'The Mask of Zorro¸' starring Sir Anthony Hopkins¸ Antonio Benderas and Catherine Zeta-Jones.
The first product in the planned line of Zorro products is 'The Legacy of Zorro' (Stock # 3001¸ ISBN 1-890305-26-X)¸ an introductory adventure game using the simplified 'Instant Fuzion' game system¸ set for release June¸ 2001¸ followed by several support products through the year. 'The Legacy of Zorro' is a 32-page book¸ with complete rules¸ characters¸ an adventure¸ and cutout figures¸ with a retail price of $9.95.
'The World of Zorro Adventure Game and Resource Book' (Stock # 3010¸ ISBN 1-890305-29-4)¸ using the Fuzion game system¸ is scheduled for release this Fall¸ and includes advanced rules¸ more options and a richly detailed description of Spanish California. 'The World of Zorro' is a 144-page hardcover book¸ with a retail price of $24.95.