Tekumel: Empire of the Petal Throne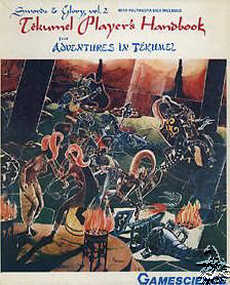 Hintergrundwelt von M.A.R. Barker¸ die mit dem Rollenspiel 'Empire Of The Petal Throne' erstmals 1975 ausgeliefert wurde. Ausgezeichnet herausgearbeitet - allerdings mit $25.00 zu teuer und vielleicht auch zu detailiert. (Karl-Georg Müller)
Eines der ersten Rollenspiele-von M.A.R. Barker¸ aus dem Jahr 1975 ! Sein Rollenspiel hatte einen aus heutiger Sicht lobenswerten Vorteil-die Hintergrundwelt Tekumel war ausgezeichnet herausgearbeitet-und genau das gereichte ihr zum Nachteil. Denn der Verkaufspreis von $25.00 erstickte die Nachfrage im Keim¸ und vielleicht war auch die Detailverliebtheit Barkers zuviel für ein Genre¸ das gerade seine ersten Blüten nähren konnte.
A non-traditional fantasy game set on a unique alien world called ""Tekumel"". Set 60¸000 years in the future¸ Tekumel was settled by Earth¸ but a great disaster threw Tekumel into a pocket dimension where gods and magic existed. The setting has a strong Hindu and Aztec flavor rather than European¸ and is lavishly detailed. It uses a variant of the Tri-Stat system originally from the Big Eyes¸ Small Mouth RPG. There are two previously-published games set in this world¸ though with unrelated rules systems: Empire of the Petal Throne (1975) and Gardisayal (1995). - A description from https://darkshire.net/jhkim/rpg/encyclopedia/ with kind permission of John H. Kim
---
Guardians Of Order invites gamers of all ages to join in the revitalization of Professor M.A.R. Barker's exquisitely detailed world of Tékumel: Empire of the Petal Throne. Tékumel is the oldest licensed property in the adventure gaming industry¸ first published by TSR in 1975. Barker has devoted over fifty years to creating the Tékumel universe¸ developing it into a vivid science fantasy setting with rich backgrounds and unique cultural identities. The core rulebook will introduce players to the land¸ history¸ and inhabitants of Tékumel¸ and give the GM the tools needed to develop and run epic campaigns or single adventures. Tékumel is part of the popular Tri-Stat Compatible game line¸ which features easy-to-learn game mechanics¸ quick combat action¸ and an extensive player network. If you're looking for an exciting fantasy game with a rich setting and original player character concepts¸ welcome to the world of Tékumel: Empire of the Petal Throne.