Hong Kong Action Theatre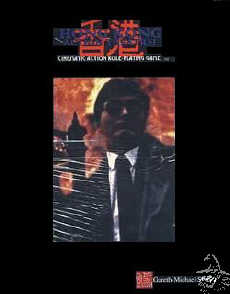 An extremely cinematic RPG which emulates Hong Kong action movies. For example¸ your chance to hit an opponent is not based on range or armor¸ but solely on the Star Power of the opposing actor¸ or the character's importance to the current plot! The 2nd edition rules were adapted to be compatible with theBig Eyes¸ Small Mouthsystem¸ while still keeping many of the innovative features. - A description from https://darkshire.net/jhkim/rpg/encyclopedia/ with kind permission of John H. Kim

Introducing the new and improved second edition of the critically acclaimed Hong Kong Action Theatre! HKAT! 2nd Edition improves upon the game that put fast-paced¸ high-flying¸ over-the-top action role-playing on the map. As part of Guardians Of Order's new Tri-Stat Compatible line¸ this game features all new artwork¸ an improved and expanded resource material on Hong Kong and the film industry¸ and fast-paced action resolution. The new game engine¸ while compatible with many other Guardians Of Order games that also utilize the Tri-Stat System¸ will keep some of the innovative features of the original edition. Come and enter the adrenaline-charged role-playing game of Hong Kong action movies!