Munchkin / Munchkin d20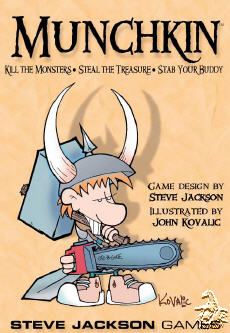 Ein schnelles und albernes Spiel¸ das längst seinen weltweiten Siegeszug angetreten hat.Munchkin kann jede Gruppe in einen hysterischen Lachanfall treiben. Und während sie lachen¸ klaust du ihr Zeug. Das Kultspiel liegt 2013 neu in unserer beliebten Doppelschachtel vor und enthält zudem die erste Erweiterung Munchkin 2: Abartige Axt. Um was es geht? Hieran hat sich nichts geändert: Geh in den Dungeon. Töte alles was sich bewegt. Fall deinen Freunden in den Rücken und klau ihr Zeug. Greif dir den Schatz und dann RENN! Gibs zu¸ du liebst es. Dieses Kartenspiel fängt die Erfahrungen eines Dungeons ein ... ohne das nervige Rollenspiel. Alles¸ was du noch zu tun hast¸ ist¸ Monster zu töten und dir magische Gegenstände einsacken... und steige Stufen auf!
Go down in the dungeon. Kill everything you meet. Backstab your friends and steal their stuff. Grab the treasure and run.Admit it. You love it.This award-winning card game¸ designed by Steve Jackson¸ captures the essence of the dungeon experience . . . with none of that stupid roleplaying stuff. You and your friends compete to kill monsters and grab magic items. And what magic items! Don the Horny Helmet and the Boots of Butt-Kicking. Wield the Staff of Napalm . . . or maybe the Chainsaw of Bloody Dismemberment. Start by slaughtering the Potted Plant and the Drooling Slime¸ and work your way up to the Plutonium Dragon . . .And it's illustrated by John Kovalic! Fast-playing and silly¸ Munchkin can reduce any roleplaying group to hysteria. And¸ while they're laughing¸ you can steal their stuff.Munchkin won the Origins award for Best Traditional Card Game of 2001!