Lord of the Rings / Herr der Ringe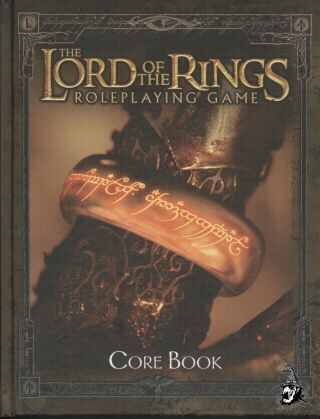 Ebenso prächtig mit Photos dekoriert¸ wie unverschämt teuer: das neue 'Lord of the Rings RPG'. Ein ansehnliches und gute gebundenes Hardcover - und das durchgehend farbig!

Wie jedem anderen Herr der Ringe-Fan (yep¸ ich habe einst sogar mit einem Rolemaster/MERS-Mix meine Karriere als Rollenspieler gestartet!) steigt auch mir die Spannung über das neue Werk zu Kopf. Hoffnungen und Befürchtungen liegen da dicht nebeneinander... vor allem angesichts der wohl kaum erwähnenswerten Einsteigerbox... Drücken wir die Daumen¸ das Decipher und im Anschluß Pegasus eine gute Arbeit gemacht haben und Mittelerde eine neue rollenspielerische Zukunft geben.

Das Herr der Ringe-Rollenspiel bringt Spielern wie Fans auf der ganzen Welt das epische Abenteuer des erfolgreichen Films sowie der überall beliebten Romane J.R.R. Tolkiens noch näher. Nun können die Spieler selbst Mittelerde betreten¸ um die Rolle jedes Charakters oder Helden anzunehmen¸ die sie sich vorstellen können - sei es ein unwilliger Hobbit wie Frodo oder ein mächtiger Zauberer wie Gandalf. An diesem Spiel führt für den Fantasy-Fan wie auch den Fan von Fantasy-Rollenspielen einfach kein Weg vorbei¸ denn es basiert auf genau den drei Büchern¸ mit denen alles anfing: Der Herr der Ringe!
A fantasy RPG based on the novels by J.R.R. Tolkien. It uses a version of the ""CODA"" system (also used by Decipher'sStar TrekRPG). Action resolution is by attribute + skill + 2d6 versus difficulty. Character creation uses random-roll attributes (with a point-bought option)¸ and chosen skills -- taking 'picks' of skills from racial background and selecting an 'order' (i.e. warrior¸ wizard¸ rogue). There are also Edges and Flaws (advantages/disadvantages). - A description from https://darkshire.net/jhkim/rpg/encyclopedia/ with kind permission of John H. Kim