Lone Wolf / Einsamer Wolf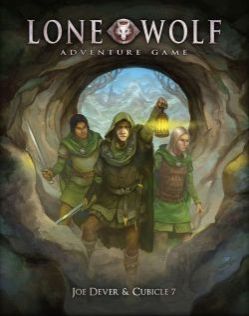 A fantasy genre RPG¸ based on the Lone Wolf series of gamebooks and novels. The original gamebooks were co-authored by Paul Barnett (aka John Grant) and Joe Dever. The game is set in the kingdom of Sommerlund¸ grandest nation on the world of Magnamund. There¸ Kai monks with mystical powers defend the land against the Darklords of the west. The RPG is officially set some 50 years before the plot of the gamebooks (wherein all but one the Kai monks are killed in a war with the Darklords). It is a standalone RPG¸ while the rules are a variant of the D20 System from 3rd editionD&D. Combat has been made faster by the elimination of Attacks of Opportunity and Feats¸ and there is special magic appropriate to the setting. - A description from https://darkshire.net/jhkim/rpg/encyclopedia/ with kind permission of John H. Kim

Launched in the 80's¸ the Lone Wolf series of gamebooks quickly became firm favourites among a growing fan base. Alone among the gamebooks of their day¸ Lone Wolf was the only one to feature a cohesive and exciting world¸ and an extended campaign in which your character could grow and expand as he travelled through all 28 books of the series. This was the first true mega-campaign!

Now¸ the world of Magnamund is open to you. The Lone Wolf roleplaying game faithfully reproduces the lands in which Lone Wolf walked¸ allowing you to explore this setting far beyond the realms of the orginal gamebooks. Whether you choose to play a Shadaki Buccaneer¸ a Sommerlund Knight of the Realm¸ a Brother of the Crystal Star¸ a Telchos Warrior¸ a Magician of Dessi¸ a Dwarven Gunner of Bor or even¸ yes¸ a Kai Lord¸ you can be sure of a fantasy gaming experience unlike any you have come across before.