13th Age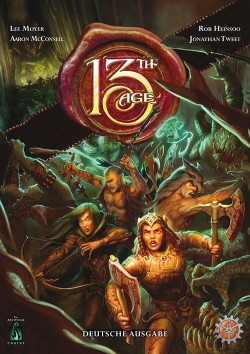 Die Welt kann sich nicht selber retten... - Prophezeiungen treffen nicht ein¸ Dämonen überfluten alles¸ lebende Dungeons brechen zur Oberfläche durch und die Wächter des Drachenreiches wanken. Die Ikonen¸ die die Welt formen¸ bereiten sich auf den Krieg vor. Also¸ ihr Helden¸ wie stellt ihr euch die Zukunft vor? Geht ihr aufs Ganze¸ um eure eigene epische Geschichte zu schreiben? Oder schnappt ihr euch die besten Schätze und verbergt euch in den Schatten? 13th Age ist ein d20-Spiel voller Schlachten¸ Schätze¸ gemeinsam erzählter Geschichten und heroischer Abenteuer. - Für die Spieler: - Das einzigartige Merkmal deines Charakters stellt sicher¸ dass du absolut einzigartig bist. - Allianzen und Feindschaften mit den Ikonen wie dem Erzmagier¸ dem Leichenkönig oder dem Prinzen der Schatten weisen deinem Charakter sogar schon auf der ersten Stufe seinen Platz in der Geschichte der Welt zu. - Gestraffte und flexible Kampfregeln erlauben schnelle¸ flüssige Schlachten. - Die Charakterhintergründe gestatten es dir¸ die Geschichte zu den Fähigkeiten deines Charakters zu erfinden. - Als Spielleiter: - Entwirf blitzschnell Monster und Abenteuer. - Überrasche sowohl dich selbst als auch deine Spieler mit Abenteueraufhängern aus den Hintergründen und einzigartigen Merkmalen der Charaktere - Optimiere jedes d20-System mit Mechanismen wie dem Eskalationswürfel oder schrittweisem Stufenaufstieg. - 13th Age: Schmiedet Helden! Drückt der Welt euren Stempel auf! Werdet zu Legenden! - Zwei Titanen des Rollenspiels dringen tief in den Dungeon der Traditionen ein¸ töten die Monster und griffen sich die Schätze! Robin D. Laws¸ Spielentwickler GUMSHOE & Feng Shui - Eine aufregende Hintergrundwelt¸ ein frischer Wind in den althergebrachten Spielmechanismen und absolut angenehme und klare Regeln. Das ist genau das Spiel¸ das die OGL erschaffen sollte. 13th Age ist ein perfekter Nachfolger von sowohl der dritten als auch der vierten Edition des so geschätzten wie auch mächtigen Urahnen. Jeff Grubb¸ Spielentwickler vieler Spiele¸ die du gespielt hast - Ich habe jede Menge 12th Age gespielt¸ aber dieses Spiel ist wirklich ein Schritt vorwärts. -- Jerry Tycho Holkins¸ PENNY ARCADE
A fantasy tabletop role-playing game with a customizable setting¸ based on a variant of the D20 System from third editionDungeons & Dragons. It mixes in story-oriented mechanics¸ along with no predefined skills and no assumption of figures or a map for combat. It does include ten levels grouped into three tiers. The setting includes default places¸ a default bestiary¸ and 13 default figures of power in the world (known as Icons - such as the Archmage¸ the Diabolist¸ and others). However¸ other details are left open to be filled in as part of character creation. - A description from https://darkshire.net/jhkim/rpg/encyclopedia/ with kind permission of John H. Kim
---
Prophecies fail. Demons invade¸ living dungeons rip towards the surface¸ and the Empire's protectors falter. The great icons who shape the world arm for war.
So what's it going to be¸ heroes? Risk everything to forge your own epic history? Or grab the best loot and escape into the shadows?
13th Age is a d20-rolling fantasy game of battle¸ treasure¸ group storytelling¸ and heroic adventure.
For players:
Your character's "one unique thing" ensures there's no one else like you.
Alliances and enmities with icons such as the Archmage¸ Lich King¸ and Prince of Shadows give your character a place in the world's story¸ even at first level.
Streamlined and flexible combat rules create fast-moving¸ free flowing battles.
Character backgrounds let you invent the stories that shape your skills.