Quad-S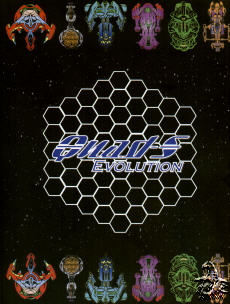 Quad-S¸ the Strategic Starship Skirmish System¸ is a spaceship combat boardgame unlike any other on the market by using a 'modular' rules system. Each race plays by their own rules and can be used as a stand alone game. At the same time however¸ each race can play against any other race without any problems. Each race is different on how they move¸ fire¸ take damage¸ and even how they go into hyperspace. But the one thing that doesn't't change is that they are all totally compatible to play against each other. No other space game on the market is as diverse in its race construction.

Another bonus that diversity and strategy doesn't mean.....complexity. Each race is simple to learn. With only a small amount of reading to go through instead of a sweltering tome of rules¸ you'll be playing right after you read it. After two or three turns¸ you'll be able to play fluently.

Quad-S is a rich maneuver-based game in which thinking ahead will win the game more than any other factor. For instance¸ imagine playing a game with three ships aside. Next¸ you decide to play another game and have the same forces as before¸ but this time you move one ship over fifteen hexes from the position it started from in the previous game. Now the whole game can change¸ hinged on that altered starting position.

One final point we'd like to make that we believe you can see already. This is not a mass market game. This game will appeal to seasoned gamers who crave for a taste of game mechanics¸ not just fluffy pop culture.

Honorable Play is the Key

Quad-S stresses honorable play ahead of all other things. Taking on opponents with an inferior force¸ offering return matches to opponents that gave you a good run¸ giving handicaps to those whom you have beaten repeatedly. All of these things are really just good sportsmanship in general¸ but that is the idea behind 'winning' in Quad-S. Quad-S determines a winner unlike any other starship game.....by a player's own reputation. That gets rid of the possible invasion of 'cheese weasel' and 'lawyer jockey' gamers.

What Do I Need To Play

Each racebook plays by it's own rules! No 'basic sets'¸ no reason to buy extra things you do not need.

Each racebook comes with six hexagon maps that are alphanumerically numbered for e-mail play. It also allows you to keep track of where your ships are in battles that have to be 'put away' until later.

Each racebook comes with light cardstock counters with nicely detailed artwork. There are an even number of these that have their colors inverted in order to play interracial battles.

You only need one racebook to play along with a standard set of 'polyhedral dice' (those d4¸ d6¸ d8¸ d10¸ d12¸ and d20 things)

For miniature players¸ a suggested list of compatible figures is complied under 'compatible figures'.