Pokémon Jr. Adventure Game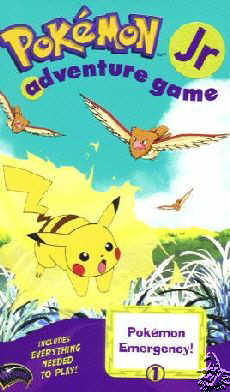 26 Power-Karten¸ 48 Treffer-Marken¸ 2 Pokemünzen¸ 1 Würfel¸ 6 Pokedex Checklisten¸ Storybuch
A mini-RPG for young children¸ based on the Pokemon (pocket monster) video and card games. Each pokemon has a card which lists its stats: attack roll¸ damage¸ and hit points - plus a power if its attack succeeds. Attacks are made by rolling 1d6 vs attack roll. The 60-page pocket-sized booklet mostly consists of 16 pre-made scenarios to play. cf. theofficial website. - A description fromdarkshire.netwith kind permission of John H. Kim

Squirtle? Bulbasaur? Pikachu? Wonder what your kids are saying when you hear those words? This game is your chance to find out. The newest Pokemon game is all about storytelling. Parents read brief story scenarios that end with the question¸ 'What do you do?' Every scenario includes Pokemon art and story elements drawn from the Pokemon episodes on the first Pokemon video. Kids can play their favorite Pokemon trainers from the cartoon like Ash¸ Misty and Brock. Parents¸ as narrator¸ can share in the game experience with their children.
Pokemon Emergency includes everything needed to play (counters¸ dice¸ coins¸ cards) in a box roughly the size of a deck of cards. Each adventure takes 10-20 minutes to play¸ comes with easy rules for a fast startup. The game is designed for kids ages 6-8 (with the help of an adult narrator) and teaches children basic role-playing concepts.

The game where you tell the story!
The story where you play the game!
It's a Pokémon Emergency! In this game¸ you and your friends become Pokémon trainers and set out on a series of exciting adventures. Journey from Pallet Town to Viridian City¸ looking for Pokémon to capture and battles to win! With each story-game you play¸ you and your friends collect Pokémon and gain experience in your quest to become Pokémon masters.
This game contains everything you need to play:
26 Pokémon power cards¸ 48 hit tokens¸
6 Pokédex checklists¸ 2 Pokécoins¸ 1 six-sided die¸ and a full-color Pokémon Emergency! story book. The game can be played with 1 to 6 players¸ ages 6-8¸ and a parent.

Like the card game¸ much of the action involves capturing the elusive Pokémon. The difference here lies in the way the action unfolds.
A parent and 1 to 6 younger players create stories based on their adventures¸ with the parent moving the action along¸ and the kids describing what they see and do as they progress through the story. Players are urged to be creative and describe the types of creatures that might inhabit places such as Viridian Forest¸ and come up with what exactly a Pokémon center looks like. It's a great way for kids to exercise their imaginations and practice verbalizing their ideas so that others can understand them. Good deeds are also rewarded¸ as the players team-up to extinguish a fire or help an ailing Pikachu.
With the parent's guide laying out the basic story¸ and the kids determining what decisions are made¸ it's easy to spend an evening or two together creating your very own Pokémon adventure--no television needed!