Nemesis: A Perfect World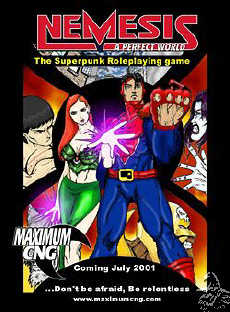 A post-apocalyptic superhero RPG¸ set in the modern world after a supernatural disaster (the Nemesis event) which gave certain people supernatural powers. It uses a skill-based system. Action resolution uses 2d6. Character creation is either an original character¸ or creating a version of yourself with powers. There are six templates for superpowers. - A description fromdarkshire.netwith kind permission of John H. KimThe Super Punk Role-playing game. Now comes the answer to the age old question¸ 'What would you do if you had superpowers?' Nemesis: A Perfect World allows players to create and play any type of super-powered being. The characters they create are based on themselves. The setting is a land created by the prophesied end of the world. This land has all the flash and majesty of a comic book plus the added drama and realism of our own evening news. Here¸ the fate of your city and country depends not on strange visitors from another planet or specially trained mutants¸ but you! MXN 1000 $24.99 240 pages
---
Zenit. The most powerful of all the weapons ever forged¸ born from darkness before time and only witness of the creation of the universes. Only moved by savage and brutal instincts¸ travels from one reality to another calling at arms¸ turning whole worlds into battlefields and abandoning them sterile after centuries of never ending wars."
This is the start point for "Nemesis"¸ the first game from Zenit Miniatures¸ set in the fantasy world of Miter¸ where a vast number of creatures¸ heroes¸ wizards¸ alchemists and mysterious beings dwell¸ and where its settlers grow¸ evolve¸ fight¸ and sometimes disappear without leaving trace.
Join Nemesis and enjoy yourself demonstrating your abilities and strategy in a dynamic and surprising game of skirmishes.