Dogs in the Vineyard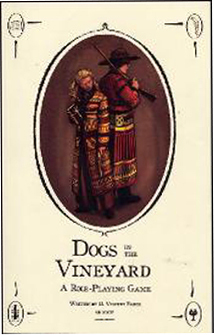 A western-genre game where the PCs are religious guardians (God's Watchdogs) in the community of the Faithful¸ which is based on 19th century Utah. Demons roam about the world¸ and can attempt to move in on towns which have given way to sin. Characters have four main attributes¸ which are each pools of two or more d6. They also have traits¸ relationships¸ and equipment which are rated as pools of other dice (i.e. d4¸ d6¸ d8¸ d10). Resolution is by conflict resolution: establish ""What's at Stake"" and then roll the dice for all stats related to that. The alternate sides then go through a process of a ""Raise"" using two of the dice¸ which must then be countered by the opposing side. You can alternately ""Escalate"" by switching to a different form of combat¸ such as going from social to physical. This raises the amount of ""fallout"" which can occur from the conflict. - A description from https://darkshire.net/jhkim/rpg/encyclopedia/ with kind permission of John H. Kim

Dogs in the Vineyard is the latest from D. Vincent Baker¸ who brought us Kill Puppies for Satan. You play a roving guardian of spiritual order on the US frontier. Your land is a territory not yet constituted as a state¸ and your faith is the one true Faith. Your conflicts are personal and often involve shoot-outs.