Six Seasons in Sartar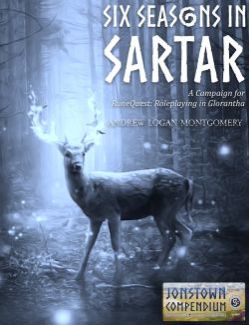 SARTAR. 1619 ST.
A group of young people come of age in an isolated mountain clan. They are the first generation born and raised after the Lunar Conquest¸ and saw their people bleed and die in Kallyr of Kheldon's failed rebellion. Yet Kallyr still believes she is the one destined to liberate Sartar¸ and Fate--or Luck--is about to put these young Sartarites in her path...
INSIDE THIS BOOK YOU WILL FIND"
"Six Seasons in Sartar¸" an epic six-scenrio campaign written for RuneQuest: Roleplaying in Glorantha but easily adaptable to other systems. Based on the Third Age epic poem of the same name¸ the campaign plays like a novel¸ with character arcs¸ plot twists¸ and themes¸ but is still completely driven by players' choices and group tastes.
"The Riddle" and "Rites of Passage¸" a pair of female and male adulthood initiation rites usuable in any Heortling campaign.
"Episodes¸" a dozen "side quest" or "mini-games" usable in this or any other Sartar campaign. These episodes include rules for cattle raids¸ courtships¸ mass battles¸ initiations¸ heroquests¸ weddings¸ funerals¸ feasts¸ and much more.
"HeroQuests¸" a chapter on running these in RuneQuest.
"The Starbrow¸" a version of Kallyr of Kheldon ready for use in RuneQuest.
Based on the popular blog series of the same name¸ "Six Seasons in Sartar" has been completely rewritten¸ revised¸ and expanded for this book.
NOTE: Material in this book deals with mature themes. GMs are advised to adjust their presentation of this subject matter in accordance with their own and their group's comfort levels.