Into the Troll Realms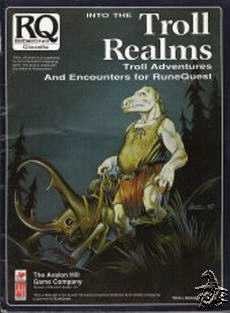 The Hungry Ones¸ The Stone-Eaters...
TROLL REALMS: beyond the pale of mankind¸ other species pursue different destinies. Not the least in power¸ dignity¸ and glory are the troll races¸ whose ways are at once familiar and shocking¸ and whose very existence tells of a world humans prefer not to know.
A unique introduction to the stern¸ humor-filled dark trolls¸ TROLL REALMS includes adventures¸ encounters¸ full troll statistics¸ maps¸ instructions¸ special player information¸ and many new illustrations and silhouettes¸
TROLL REALMS: entertaining and provocative.
* Terrorist Trollkin
* Sly Dark Troll Gamblers and Traders
* Trollball Berserkers
* Bizarre Insect Technology
INTO THE TROLL REALMS is a book of adventures for the RuneQuest roleplaying game.
* It contains three longer adventures each playable for one or more evenings¸ three extended encounters which may be woven into the other adventures¸ and two teams and the rules for troltball¸ the ultimate sport for macho champions.
* Skyfall Lake features systematic encounters with troll drink (not for the average guy) and presents a tour of and adventures in an important troll outpost.
* Grubfarm brings the adventurers to the source of much troll power¸ a place where giant insects of many kinds are raised and trained.
* Flying Trollkin kidnapers subject all the player-characters to a strange and torturous fight.