Combo Pack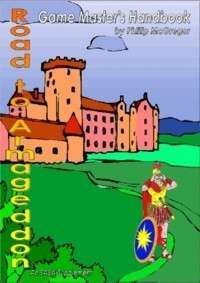 RtA ("Road to Armageddon") is an unusual campaign background (for BTRC's "EABA" game system¸ which must be purchased separately)¸ combining elements of Science Fiction¸ Horror¸ and Fantasy into a coherenet and unique whole...
... a world where 21st century soldiers from a world-spanning war will end up being allied with soldiers from the greatest war of the 20th century in fighting side by side with their descendants from the 27th millennium against an inimical evil.
The Combo Pack contains the Player's Handbook (120+ pages) AND the GM's Handbook (200+ pages¸ some duplicated from the PHB) all in one huge package¸ and at a slightly reduced cost to purchasing separately.
Included in the books are data (for EABA) on the Weapons and Vehicles that are available for the background... those from the 20th and 21st centuries as well as those of the 27th millenium...
... and extensive background information about the "Three Way War" that dumped them in the future as well as the "Dark Death" War that they and their 27th millennia descendants find themselves facing... including extensive material on the creatures and other opponents that they will likely find themselves facing in their adventures...
Currently on sale at a vastly reduced price in anticipation of a new (standalone and EABA) edition. Existing owners will be entitled to a substantial discount on the new edition(s) when released.