Eternal Champion: The Shattered Isle: Rebels Against the Mutant Master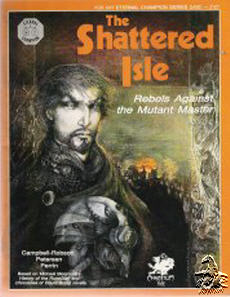 The Shattered Isle is a supplement for the Eternal Champion series of Roleplaying games. This series¸ currently consisting of the games Stormbringer and Hawkmoon¸ is based on the fantasy novels written by noted author Michael Moorcock. This book contains two sections: Additions and Scenarios.
ADDITIONS: Contains new rules which are later used in the Scenarios. Included here are guidelines for vehicular and aerial combat and exotic and powerful weapons found in the New Fenian armory¸ more than 50 Beast Orders from the isle of Granbretan¸ and a glimpse into the daily routine of Oshol Nariva -- a typical member of the Order of the Boar.
SCENARIOS: Contains numerous adventures set on the Tragic Millennium Earth. An extensive section titled Getting Here presents to the gamemaster capsulized methods for getting the adventurers involved with the Shattered Isle scenarios¸ including a variety of options for both Young Kingdoms and Tragic Millenium Earth adventurers.