GameMaster's Workshop Volume 1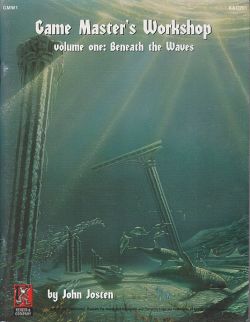 GameMaster's Workshop (GMW) is a series of source material designed for use with any role-playing system including¸ but not limited to¸ Advanced Dungeons & Dragons and HackMaster. Each volume of GMW contains valuable tools and aids to help make Gming easier and exciting for both you and your players. This edition of GMW is set in the popular Kingdoms of Kalamar Fantasy Campaign setting in Whimdol Bay on the southern shores of the Elos Desert. However¸ the material is sufficiently generic so that the GameMaster can simply drop this material into his or her own campaign (if different from Kalamar) with virtually no alterations.
Standard features of GMW include Close Encounters of a Random Kind (random encounter or event tables)¸ Bait¸ Snare and Bag (brief plot lines for adventures presented in a simple format) and The Good¸ the Bad and the Ugly (detailed descriptions of NPC personalities¸ motivations and basic abilities). A multitude of new items (both normal and magic)¸ spells¸ races and monsters are also included.
This volume describes a detailed society of Mermen including their lives¸ their interactions with surface dwellers¸ and both the mundane and extraordinary plights they face. The GM should read this entire book to take full advantage of the wealth of material presented and ensure fluid game play. Use it with any fantasy role-playing game and enjoy!