Stealer of Souls: A Quest For Vengeance in Ilmiora (11)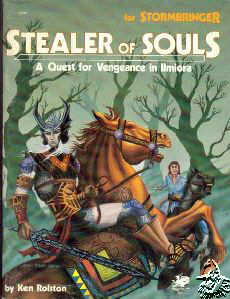 STEALER OF SOULS is a scenario book for use with the STORMBRINGER game. The scenarios depict a womans quest for revenge against a deadly conspiracy of merchants in Bakshaan. The four merchants (rivals of the womans father¸ a man named Haver Nikorn) hired Elric to storm his keep and kill him. That battle is chronicled in the Moorcock story entitled Stealer of Souls.
Freyda Nikorn¸ the dead merchants daughter gathers together a group of adventurers and friends to embark on her mission of vengeance. The adventures in this book tell the tale of Freydas vengeance against the four merchants¸ and her success or failure is determined by the players.
The gamemaster is provided with extensive information on the government¸ culture¸ and environment of Bakshaan. A complete description of a Bakshaan-Karlaak trade caravan is also included. Extensive character descriptions aid the gamemaster in storytelling.
Four pages of player pullouts provide the players with all the information they need to start playing the scenarios. The pullouts include player-character knowledge of Bakshaan¸ a map of the city¸ and statistics for Freyda Nikorn.