Elric! RPG Corebook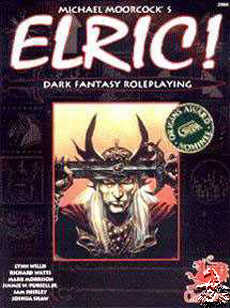 Melniboné is an island¸ an archepelago set amidst the oldest ocean. ruler of the youg kningdoms for the past 10¸000 years¸ Melniboné has seen the might of its once all-powerful dragons wane. Their terrifying flights are no longer common¸ and the dragons sllep longer after each foray.

"Imrryr¸ the Dreaming City¸ is the capital of Melniboné¸ it is rich beyond imagining¸ but its people are quiescent¸ slumbering in a stupor of neglect and decay.

"Elric is emperor¸ 428th in line of direct-descent from the first dragon-lord. Elric is a brooding albino¸ unlike his ancestors in many ways. Yet in his hands rests the future. To be counted Elric's friend is to be found¸ dead.

"Stormbringer is Elric's fearsome runesword¸ intelligent and malicious¸ with its own plan for tomorrow. Stormbringer is highly magical¸ harkening from an age when chaos held greater sway upon the world.

"The Young Kingdoms are a handful of upstart nations¸ once part of the Bright Empire¸ who in the past few centuries have dared defy once-mighty Melniboné.
---
This dark fantasy roleplaying game is set in the world of the Young Kingdoms¸ based on the Elric novels written by author Michael Moorcock. Exhaustive background features rich descriptions of the island of Melnibone and of her former holdings¸ known collectively as the Young Kingdoms. Character generation is quick and complete. The forces of Law¸ Chaos¸ and the Cosmic Balance affect every adventurer: their allegiances reflect the choices which you make for him or her. Magic includes rules for summoning¸ casting spells¸ and invocations and enchantments. Creatures and personalities chapters describe the multitude of beasts¸ denizens and human-like inhabitants of the world. Spot rules highlight important game details. The gamemaster chapter is recommended reading for new gamemasters. Two scenarios¸ six ready-to-copy adventurers¸ a new world map¸ an index¸ list of terms¸ Stormbringer conversion rules and play aids complete this book. All you add are dice and your imagination.