Alien Intelligence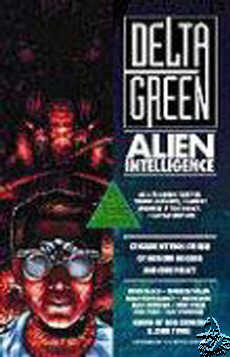 You are NOT CLEARED for this book.
These eight tales of cosmic horror and personal apocalypse were not written to make you feel secure about your place in the universe. They are here to unsettle you¸ to horrify you¸ and to challenge your misguided notions of history¸ humanity¸ and morality. Enjoy.
Born of the federal government's 1928 raid on the degenerate coastal town of Innsmouth¸ Massachusetts¸ the covert agency known as Delta Green spent four decades opposing the forces of darkness with honor¸ but without glory. Stripped of sanction after a disastrous 1969 operation in Cambodia¸ Delta Green's leaders made a secret pact: to continue their work without authority¸ without support¸ and without fear. Delta Green agents slip through the system¸ manipulating the federal bureaucracy while pushing the darkness back for another day - but often at a shattering personal cost.
An all-new anthology of Cthulhu Mythos fiction¸ set in the milieu of the Delta Green game book. Government agents face shattering horror as the final years of the twentieth century churn bloodily to a close. Grim¸ searing stories of mysteries¸ conspiracies¸ and personal apocalypse. Edited by Bob Kruger and John Tynes. Stories by Bruce Baugh¸ Dennis Detwiller¸ Adam Scott Glancy¸ Bob Kruger¸ Blair Reynolds¸ Greg Stolze¸ John Tynes¸ and Ray Winninger.