Standing Alone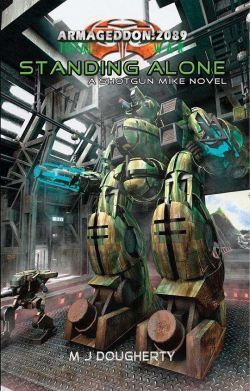 The Assassin lurched and staggered¸ vanishing from view in a fountain of mud¸ water and splintering metal. It emerged after a second¸ one arm hanging limply and its torso armour pitted and dented. Halsey dropped the cannon on target and let fly on maximum rapid fire¸ shells slamming from the massive bore and tearing into the Assassin's chest cavity.
The WarMek stumbled¸ then toppled forwards into the swamp. A great cloud of steam erupted around it¸ then an explosion rocked the swamp. Fragments of Mek¸ fallen logs and a wall of boiling water scattered across the battleground. For an instant everyone was blind.
As the Armageddon War of 2089 escalates¸ the United States of America and the European Federation constantly vie for new advantages. The paranoia and mutual suspicion of the two combatants is at an all-time high. Each jockeys for position across the globe¸ goaded on by Russia and the Tiger Combine¸ both of whom see an opportunity to advance their own agendas at the expense of the warring superpowers. Hopelessly outmatched by the might of the European Federation¸ the United Kingdom fights its War of Independence with American aid. Its fate will be decided by a few warriors fighting in the most powerful land-based war machines ever devised.
"Martin's story is riveting. This is warfare fought by real people."
Marc Miller
This edition includes Kindle (.mobi)¸.doc¸.htm¸ PDF and.epub versions of the book.