The Witcher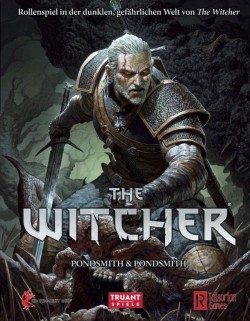 Mitten im 3. Nordischen Krieg durchkämmt Geralt von Riva¸ der weiße Wolf¸ den Kontinent auf den Spuren seiner verlorenen Liebe! Aber das ist nicht die einzige Geschichte. Eine Million weiterer Geschichten spielen auf dem riesigen Kontinent und ihr befindet euch mitten in einer!
Mit dem The Witcher Tischrollenspiel könnt ihr eure eigenen Abenteuer in der großen Welt von The Witcher schaffen! Als Spieler kannst du lebenden Legenden begegnen und die Politik des Kontinents mitgestalten! Kämpfe im brutalen und schrecklichen dritten Nilfgaardischen Krieg. Spiele deine eigenen Abenteuer.
Das The Witcher Rollenspiel präsentiert:
9 einzigartige Charakterklassen: jede mit einem speziellen Fertigkeitsbaum für ein individuelles Aufsteigen!
Ein Bestiarium der bösartigsten Monster: Jedes wurde den The Witcher-Romanen und -Videospielen entnommen und für eine einzigartige Herausforderung geschaffen!
Zahlreiche Zauber und Anrufungen: Integriert in ein magisches System¸ das die chaotische und gefährliche Natur der Magie von The Witcher beinhaltet!
Ein tödliches Wundensystem: Entwickelt¸ um euch die Spannung eines Kampfes in The Witcher zu vermitteln!
©2019 Deutsche Ausgabe von Truant UG (haftungsbeschränkt) unter Lizenz von R.Talsorian Games¸ Inc. Witcher RPG created under license from R.Talsorian Games¸ Inc. The Witcher® is a registered trademark of CD PROJEKT S.A. The Witcher game © CD PROJEKT S. A. All rights reserved. The Witcher game is based on the prose of Andrzej Sapkowski.
In the midst of the 3rd Nilfgaardian War Geralt of Rivia¸ the White Wolf¸ scours the Continent for traces of his lost love! But this is not the only tale. A million other stories play out across the vast continent and you are right in the middle of one of them! The Witcher Pen & Paper RPG allows you to tell your own story in the world of The Witcher! Adventure across the Continent¸ interacting with living legends and influencing the politics of the land! Fight in the brutal and horrific Third Nilfgaardian War. Or play out your own adventure as you avoid death and dismemberment! Featuring 9 Unique Classes: Play as Bards¸ Craftsmen¸ Criminals¸ Doctors¸ Mages¸ Men At Arms¸ Merchants. Priests¸ & Witchers. A Bestiary of Vicious Monsters: Traverse the wild and hunt everything from the troublesome nekker to the hulking¸ hypnotic fiend. Numerous Spells & Invocations: Call upon the chaotic magic of the Witcher world to summon tornadoes¸ leave hidden messages¸ and more. A Visceral Combat System: Skill & tactics rule the day and a wrong move can mean ruptured organs or more.