Spookshow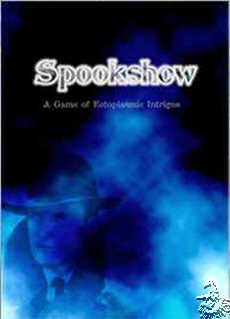 Clockworks legt ihr Agenten-Geister-Rollenspiel neu auf. Erstmals ist das Spiel rund um die zurückgekehrten Geister 1998 erschienen. Jetzt sollen neue Spieler in den Genuß kommen ihre immateriellen Charaktere auf die Jagd nach Informationen im geheimen Landes-Auftrag auszusenden.
"You live¸ you die. You go to work as a spy." Als Geister kehren die just verblichenen Erdenbürger in die materielle Welt zurück und werden dort prompt von Geheimdiensten unter Vertrag genommen. Von nun an gilt ihr einziges streben nach dem Sammeln von Wissen. Eine besondere Fähigkeit (neben Telekinese¸ etc.) erlaubt es ihnen kurzzeitig in der materiellen Welt aufzutreten (was jedoch sehr unzuverlässig ist). Gespielt wird mit W6 und W10 und ermittelt die Erfolgschancen der Fertigkeiten. Eine Besonderheit ist der Wurf bei Rundenbeginn¸ der zeigt ob ein Geist überhaupt in der reellen Welt agieren darf oder gewissermaßen in die Geisterwelt entweichen muß. Die Charaktere werden eindeutigen Geister-Klassen zugeordnet¸ erhalten jedoch durch ihr differentiertes Vorleben einen ganz individuellen Touch.
A supernatural espionage RPG¸ where ghosts are recruited to work as spies! It uses a simple stat+die vs difficulty system¸ with a twist that sometimes you use d10s for mental/spiritual/ghosty powers and d6s for other rolls. There are also various dangers of ""freezing up"" one side of your ability (resisted by a ""Control Check"") -- rolling a 1¸ say¸ or perhaps you face the thing that killed you. - A description from https://darkshire.net/jhkim/rpg/encyclopedia/ with kind permission of John H. Kim
At the end of life¸ there is death. Only¸ sometimes¸ the dead just won"t go away. These are the ghosts. now¸ some of these ghosts have learned to take on mortal guise again¸ for short periods of time. They walk the earth once more¸ pretending to be human. They even have jobs. But why go back to being a baker or a carpenter? These ghosts crave adventure¸ excitement¸ intrigue -- some place where their special "skills" will be appreciated. And they"ve found the perfect career. Welcome to espionage. The second game from Clockworks¸ Spookshow melds the genres of espionage and the supernatural.Enter a world of intrigue¸ where all is not what it seems¸ enter the world of Spookshow. All you need to play is the rulebook¸ two six-sided dice¸ and two ten-sided dice.