Shadow of the Demon Lord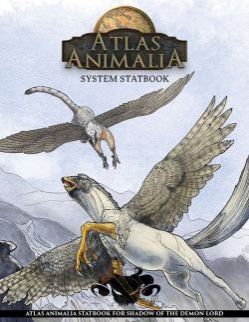 Enter a horrific world of dark¸ apocalyptic fantasy! Shadow of the Demon Lord® is a horror fantasy tabletop roleplaying game that gives you and your friends everything you need to experience the last days of a dying world. Using the rules in this book¸ you can create a new character in just a few minutes and be ready to immerse yourself in a setting overrun with deranged cultists¸ terrifying demons¸ and bizarre monsters conjured from nightmare. This rulebook also includes everything you need to create adventures for the game and includes extensive game mastery advice¸ rewards¸ and a bestiary packed with foes to fight or to flee. Shadow of the Demon Lord is your portal to a world of perilous¸ maddening adventure!

Sometimes the world needs heroes. But in the despair of his last days¸ the world has to settle for whoever happens to it: heroes¸ dark guards¸ crazy¸ and anyone else who wants to face the advent of darkness. Will you fight the demons or will you burn everything and dance in the ashes? Who will you become when the world dies? Shadow of the Demon Lord opens the door to an imaginary world locked in the grip of a cosmic destroyer. Enter a wasteland of chaos and madness freed by the end times¸ with entire kingdoms ruled by howling shepherds of beastmen¸ twisted spirits escaped from the Underworld¸ and unpronounceable horrors just awakened by the imminent arrival of the Demon Lord. Avert the plans of insane cultists¸ hunt and destroy bizarre demons¸ explore lost wastes and investigate strange mysteries¸ thus raising; the fate of a destiny that seems already; marked. A complete RPG in a stunning Boxed Set¸ Shadow of the Demon Lord provides all of this & ograve; you need to create your own characters¸ form adventure-seeking groups and tell exciting stories with your friends. Likewise¸ as a Game Master you will have all the tools you need to bring your stories to life¸ hundreds of horrifying creatures to challenge your players¸ a detailed setting and helpful tips for playing the game.