Paranoia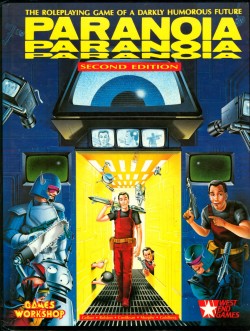 Paranoia ist eine chaotische Vision unserer Zukunft. Die Welt wird von wahnsinnigen Computern beherrscht¸ die jeweils einen "Alpha-Complex" kontrollieren. Jeder Computer mißtraut den anderen¸ weil er glaubt der andere Computer wäre von Kommunisten unterwandert. Die Spieler leben in einem dieser Alpha-Komplexe¸ und werden vom Computer als "Troubleshooter" auf aberwitzige und unlösbare Missionen geschickt. Die Gentechnik ist so weit fortgeschritten¸ daß jeder Spieler nicht nur einen Charakter¸ sondern eine 6-köpfige Clone-Familie spielt. Jeder dieser Clones ist identisch und wenn ein Clone stirbt¸ übernimmt der nächste Clone seine Stelle. Auf diese Weise erhält jeder "6 Leben"¸ die schneller aufgebraucht sind als dem Spieler lieb sein kann¸ da die Troubleshooter sterben wie die Fliegen. Das wird besonders dadurch gefördert¸ daß das Mißtrauen innerhalb der Gruppe vom System her provoziert wird. Oft gelingt eine Mission deshalb nicht¸ weil die Charaktere sich vorher gegenseitig umgebracht haben¸ aber das ist Zweck des Spiels.
Im allgemeinen sind die Troubleshooter Diletanten; Kanonenfutter das auf Missionen für den Computer geschickt wird. Jeder Charakter hat 5 Attribute mit zugeordneten Skills im Bereich von 1-20. Die Attribute werden bei der Generierung eines Charakters durch Wurf eines W20 erzeugt. Es gibt nur 2 Rerolls auf je ein Attribut¸ so daß fast jeder Charakter ein Attribut unter 10 hat. Die Skills liegen im Default bei Attribut/4. Sie liegen also bei maximal 5. Durch einige frei zu verteilenden Punkte können sie dann noch angehoben werden. Bei Tests wird mit einem W20 gewürfelt. Er wird durch einen Wurf kleiner oder gleich dem Skillwert geschafft. Bei einem durchschnittlichen Charakter kann man mit einem durchschnittlichen Fertigkeitswert von 2-6 kann man sich vorstellen¸ wie viele Tests tatsächlich von Erfolg gekrönt werden. Dazu kommt eine Mutanten-Fähigkeit¸ die natürliche illegal ist¸ und deshalb geheim (d.h. nur für den GM sichtbar) angewendet wird. (Es ist beispielsweise ein Grund einen PC umzulegen¸ wenn man nachweist¸ daß er ein Mutant ist¸ was jedoch jeder ist...) (von Ralf Wirth) Paranoia kann man IMHO nicht auf die Dauer spielen¸ weil es zu chaotisch ist. Die Spieler verlieren schnell das Ziel aus den Augen und versuchen nur noch¸ sich gegenseitig zu töten. Für ein Abenteuer (ca. 3 Sitzungen) ist das ein Heidenspa߸ aber die Lage eskaliert leicht. Durch das paranoide Verhalten des Computers und NPC"s kann ein Spielleiter eine spannende¸ paranoide und dunkel-visionäre Atmosphäre erzeugen. In unseren Spielerunden kam die Vision des unberechenbaren Computers immer gut zur Geltung. (von Ralf-V-IRT-1) * Dies ist eine Rollenspielbeschreibung aus Olav Müllers Homepage. Ergänzungen erwünscht ! *
A hilarious dark future comedy game¸ where characters are pawns of an out-of-control Computer in a post-nuclear-apocalypse complex. The atmosphere is on black comedy and slapstick¸ with the notable feature that each character has 5 clone backups -- such that they can die multiple times (and they usually do). 1st edition used a percentile skill system with skill trees. 2nd edition completely revised this. The XP edition again majorly revised the rules¸ eliminating attributes in favor of six skill groups (Management¸ Stealth¸ Violence¸ Hardware¸ Software¸ Wetware). Action resolution is roll under skill on 1d20¸ with chances modified by ""Perversity Points"" which are spent before the roll to modify the chance. - A description from https://darkshire.net/jhkim/rpg/encyclopedia/ with kind permission of John H. Kim
---
With the coming of 1987 comes the first rewrite of the Paranoia game mechanics. This is the version I happen to like the best. It's also very uncomplicated: D20s for everything. Pretty much. Get a copy if you can! The box set includes a D20 and 'The Compleat Troubleshooter'¸ a guide to the Mandatory Bonus Duties. Includes EZ-to-copy badges for your vict...err...players to wear!

The game that started it all! From the minds of Dan Gelber¸ Greg Costikyan¸ and Eric Goldberg¸ the original Paranoia edition. Complete with skill trees¸ percentile rolls¸ and all the Paranoia fun you've enjoyed for years. With a copy of this¸ you can follow the in jokes through every other Paranoia module. It also won the H.G. Wells Award for Best Roleplaying Game!
---
The crew at West End resets the Paranoia universe to where it was before the Megawhoops and Reboot. The game mechanics change too...not like game mechanics were ever the big thing in Paranoia.